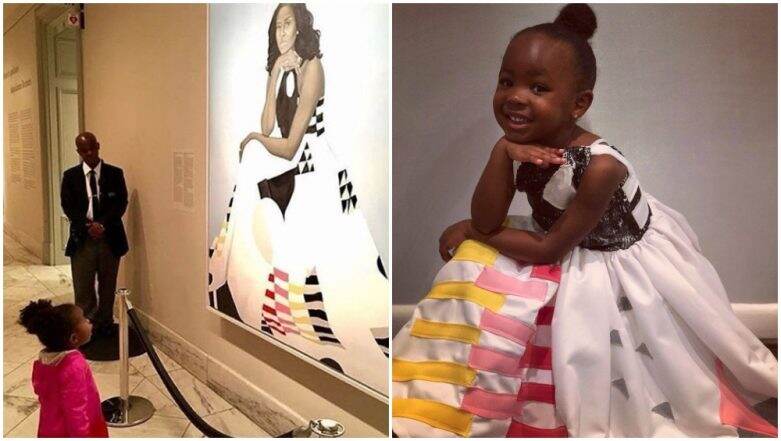 Picture of a two-year-old looking awestruck on seeing a portrait of former US first lady Michelle Obama had gone viral on social media in May. Months later on Halloween, Parker Curry wore the same dress and posed the exact same way for Halloween. The picture of Park went viral with over 51,600 likes. Soon Michelle retweeted the photo and commented saying, "You nailed the look, Parker! I love it!"
It was a portrait of Michelle in a flowing Milly gown at the National Portrait Gallery in Washington, D.C. that had caught Parker's attention. After the photo gained much attention on social media, Michelle invited Parker and her mom over for a dance party. Michelle Obama Meets Parker Curry, Dances With Her Cute Little Fan.
After meeting with Michelle, Parker's mom, Jessica Curry, spoke told CBS News' Chip Reid that meeting her was a once-in-a-lifetime experience. Curry also said that she takes Parker to a lot of museums, but she had never seen her so being amazed before.
Check out how Parker dressed as Michelle for her Halloween:
You nailed the look, Parker! I love it!!!! ❤️ https://t.co/40CArze8gT

— Michelle Obama (@MichelleObama) November 1, 2018
Here is the photo of Parker looking amazed at Michelle's portrait:
View this post on Instagram
According to a report in Buzzfeed News when Jessica asked her daughter for Halloween dressing ideas, she had a clear response. She said, "Flat out. No hesitation. Half of a second later: 'I want to be Michelle Obama,' and I was like, whoa.  thought she was going to be like, 'I want to be Elsa' or some other character like that." Parker's dress was a gift from Alisha Welsh, who runs a small, family based company in New York. She had offered to make Parker her own Obama dress back in March