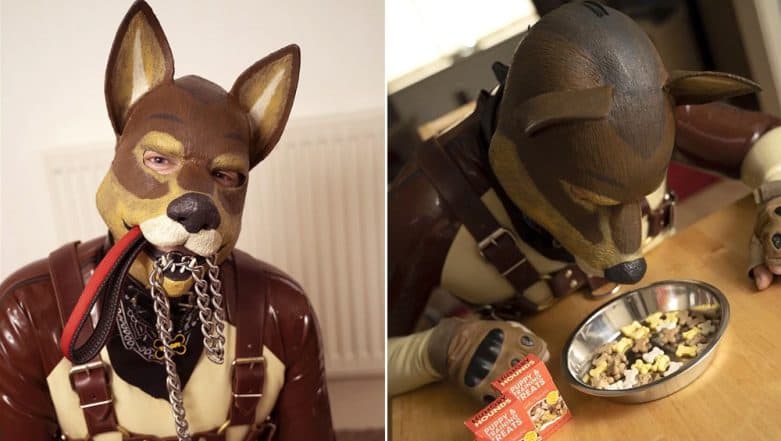 A man from Greater Manchester, has taken living a dog's life to an altogether different level, by literally living like a dog! 37-year-old Kaz James has embraced his 'true self' by living like a dog. Although he is a human he never felt like one and related more to dogs. He thus started wearing customised dog suits, eating meals from bowls and even barking. He has let his pup persona come through and feels comfortable living like a dog than a human! Chinese Man Spends Rs 25 Lakhs on His Glamorous Dog's Beauty Regime (Watch Video).
A resident from Salford, he works as a store manager but his puppy persona often takes over him outside of his work. He barks at his like-minded friends. He imitates or rather behaves like a dog too. He carries items in his teeth and feasts of dog biscuits. He dresses in his rubber outfits, masks, dog leash and harness and has also made a fur suit worth  £2,000. He embodies the mantra of 'be dog' in all aspects of his life!  He describes himself as a 'full-time orange, brown and camo K9'. This Dog Accidentally Howled Like Britney Spears' 'Toxic' Tune and Twitter Is Going Crazy! Watch Funny Video.
Watch Video of James Living Like a Human Pup in Everyday Life:
Talking about this unique personality he was quoted in Daily Mail report, "My whole lifestyle is about being a pup. I go about and live my day-to-day life relatively normally. That includes things like putting collars on and at barking at people I know in the street." He also mentioned that he barks at other pups and gets funny reactions from the people. But for James, it is a form of his life and a way of self-expression. As much as weird as it sounds to us, Kaz James is not alone.
What Are Human Pups?
Human pup is said to be a fetish where humans enjoy themselves as dogs. Although it is called a fetish, those who are human pups call it their way of life and expression. These people wear special latex outfits customised to the type of dog they want to be. A Pup Play is when the individual takes the role of either a puppy or a handler. There are online communities where those who are human pups come together and discuss more on their way of life.