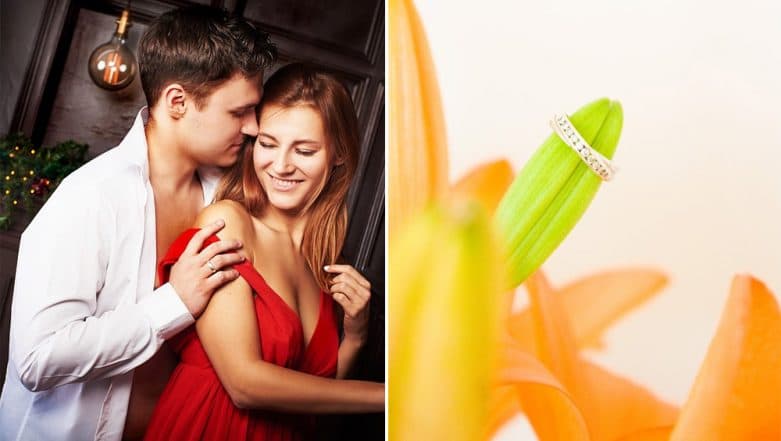 Proposing to your partner can be a stressful thing since you want it to be just perfect. You may think of many ways in which you can impress your partner and floor them with your shower of love. And a man has given an altogether different meaning to the phrase 'put a ring on it.' A man thought the best way to propose to his girlfriend would be when they were having oral sex. A proposal story has come up on the internet which talks of a man hiding the ring on his penis and surprised his girlfriend while they got into a sex act! And guess what, it worked for him and the girl boasted about it on social media. Engagement Ring Lost in Vagina! Proposal Gone Wrong as Kinder Egg with Ring Stuck Inside Woman's Privates. 
Tables were turned here, as instead of the guy going down on his knees, it was the girl who went down and was pleasantly surprised! The guy asked her to perform a sexual act and when she put her hands on his dick, she found the ring. The girl posted a picture of her ring on her social media account and wrote, "Last night, he asked me to blow him. I put my hands on his c**k and this is what I pulled out. He is truly a blessing in my life. I wouldn't ask for anything else." Well, the girl is clearly not a fan of traditional proposals over dinner or dates. It is said to be an old post but has come up again in some groups. Avocado Proposal Becomes The Latest Romantic Idea Among Millenials, We Take a Look at Unique Marriage Proposals. 
While the girl was clearly too happy, not everyone was pleased with the idea. In fact, the story was shamed in a Facebook group and some are wondering where and how did the man manage to hide the ring on his penis! The couple's identity remains hidden but it is reported that the couple got married and are having their happily ever after. But it sure was a unique proposal or the one that made way to public attention.