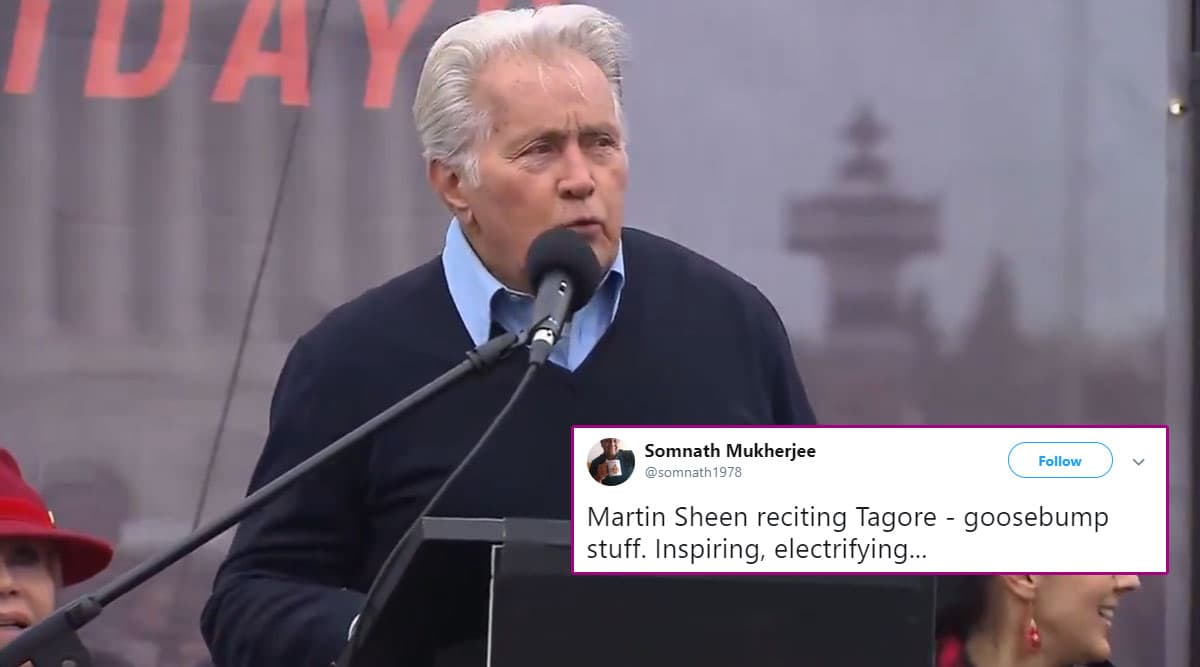 It was a memorable moment for everyone present at the Fire Drill Friday protest in Washington DC when actor Martin Sheen recited Rabindranath Tagore's poem, 'Where The Mind Is Without Fear'. The weekly climate action protest held by veteran actor Jane Fonda saw the attendance of several celebrities like Maggie Gyllenhaal and Susan Sarandon. Golden globes winning actor Joaquin Phoenix even faced an arrest for this protest along with the several others. But Sheen's speech inspired a lot of audiences with his wise choice of words, quoting Tagore.
Martin Sheen came up on stage to give a speech and spoke about women leading the way. He praised women at large and said they would be the ones to save the world. He then went on to quote Rabindranath Tagore's poem, "Where the mind is without fear and the head is held high..." A video of the same has been posted online and it is indeed a moment of pride for all Indians. The video of the same is going viral and Twitterati is in awe. Australia Bushfire Crisis Fuels Mass Protests Demanding Immediate Action on Climate Change, Watch Videos.
Watch The Video of Martin Sheen Reciting Tagore's Poem:
Listen to this incredible speech from OUR President, Martin Sheen #FireDrillFriday 🔥 pic.twitter.com/Z7HxNkovR8

— Fire Drill Fridays (@FireDrillFriday) January 10, 2020
Well, we agree to him and the way he invokes a feeling with his recitation full of passion. The video is going viral with close to three lakh views and several of them have reshared it on social media. Check some of the reactions.
What a Beauty!
This happened yesterday. Martin Sheen reciting Rabindranath Tagore is a thing of beauty. pic.twitter.com/8yw69YcD9Q

— Voice Of Ram (@VORdotcom) January 11, 2020
So Inspiring!
Martin Sheen reciting Tagore - goosebump stuff. Inspiring, electrifying... https://t.co/klus4GZnvM

— Somnath Mukherjee (@somnath1978) January 11, 2020
He Brings Tagore Alive!
Clearly the world will be saved by women and we have seen too many, just too many instances in recent times. In word & spirit Martin Sheen beings Tagore alive https://t.co/ORQk32HyNC

— Anusha Ravi Sood (@anusharavi10) January 11, 2020
So Powerful!
What a powerful rendition of Tagore's famous lines by Martin Sheen, as he courts arrest at a climate action protest! https://t.co/HSIA0Kzzlc

— Anubhuti Vishnoi (@anubhutivishnoi) January 11, 2020
It is indeed amazing how Tagore's words deemed a perfect choice and calling for climate action. No wonder he got applause from the crowds. As the last two lines read, "Into ever-widening thought and action, Into that heaven of freedom, my Father, let my country awake." The Fire Drill Fridays have been held by Fonda since October to bring attention to climate change and its impact globally.