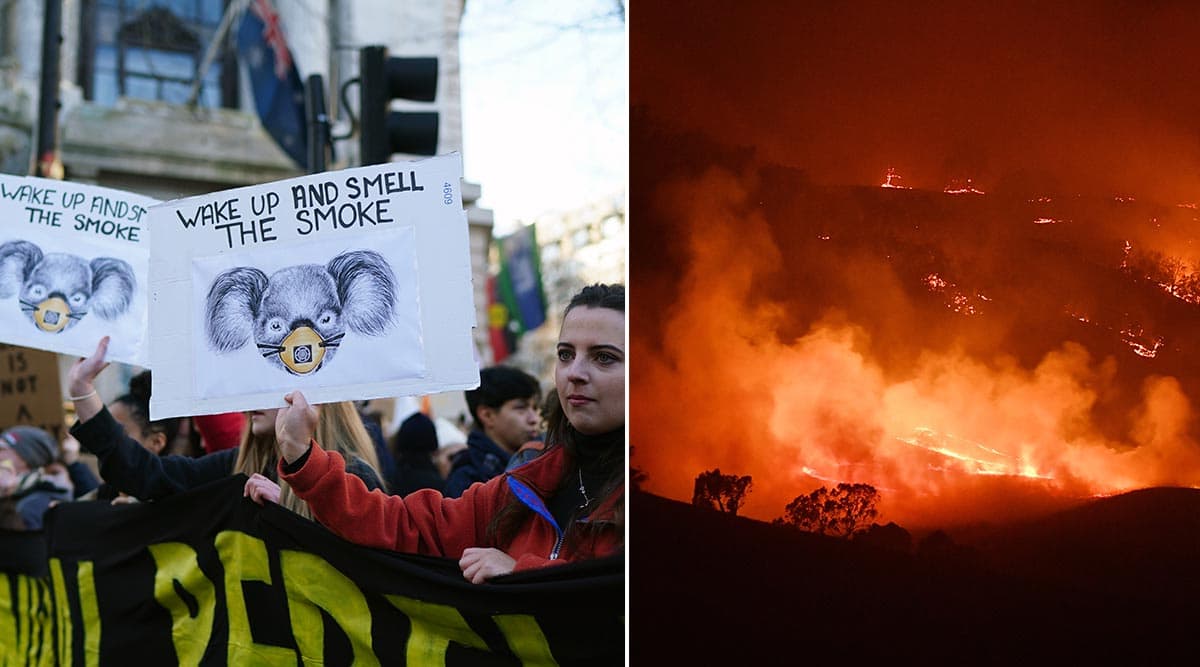 Australia is facing the worst climate in its history. The bushfires are blamed for over 20 people's deaths, more than 1 billion animals estimated to have been killed, many houses, wilds are destroyed and some still missing. Firefighters are battling round the clock. Now the Australia bushfire crisis has fuelled to mass protests. While continuing the fight with the raged fires, thousands of people took to streets protesting against the Australian government and demanding for a bolder climate change policy. The Aussies were captured marching through every capital city across the country calling for immediate action on the deadly wildfires, which is devastating the country. The videos and images capturing the revolutionary moment have been surfaced on the internet. Australia's Decision to Kill 10,000 Camels Because They Drink Excess Water Amid The Severe Bushfire Crisis Sparks Outrage on Twitter. 
Protesters gathered in cities including Sydney, Melbourne, Canberra, Brisbane and Adelaide. According to reports, the mass protests marked the first major national demonstrations since the fire season that started in July, 2019. The flames have devastated millions of acres of land and thousands of homes. The rallies were organised by the national student organisation Uni Students for Climate Justice. Here's How You Can Donate and Help Those Affected by Destructive Australian Wildfires. 
Watch Video:
Big crowd at Sydney climate protest. Chanting "what do we want, climate justice!" @abcsydney pic.twitter.com/AsTMTMTRT8

— Isabella Higgins (@isabellahiggins) January 10, 2020
At the rallies, people called for Prime Minister Scott Morrison to resign as they believe that he has not taken any adequate action on the current devastation that the country is facing. Using the Prime Minister's nickname, people chanted, "ScoMo has got to go."
Battling the Rain:
As rain continues to bucket down in Melbourne, #SackScoMo climate protesters have turned the front of the Victorian State Library into a sea of umbrellas #AustraliaFires #auspol pic.twitter.com/jQBw0NgTdZ

— Evan Young (@evanb_y) January 10, 2020
Here's Another Video:
Huge crowds in Brisbane #climateprotest saying #SackScoMo pic.twitter.com/AgYAtgEuIk

— Ellen Roberts (@ellen_roberts) January 10, 2020
The Uni students' organisation on its Facebook page said, "We're protesting this Friday because we're outraged about our government's criminal negligence about the bushfire crisis, exacerbated by climate change. We are protesting to give a voice to the tens of thousands of people who want real action on climate change and real funding for relief services."
Look At the Crowd:
Massive climate rally at Sydney Town Hall. #SackScoMo #AustraliaFires #auspol pic.twitter.com/x0ikI9WE6X

— 💧C h r i s 🏳️‍🌈🌲🚴‍♂️🌏 (@Chris86767838) January 10, 2020
Reporters further claim that the protests were not only limited to Australia. People across Europe took part in the demonstrations to show their support for the victims of fire disasters. Summers in Australia are always hot and dry, but fire seasons have been arriving earlier, spreading with higher intensity. Scientists links it with climate change. There were about 137 fires burning in New South Wales and around 3,300 firefighters battled the conditions.