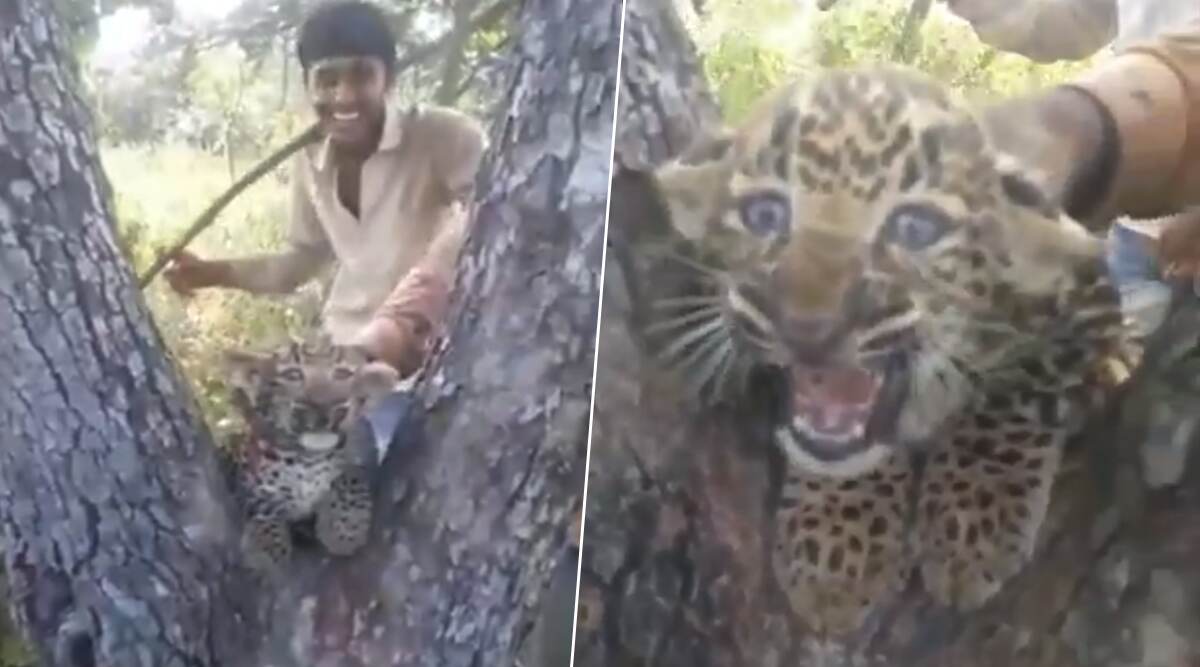 The man-animal conflict is rising day by day. A very shocking video has come up on the internet which shows a group of men harassing a leopard cub. The exact location of the video is not yet known but it is somewhere around Gir forest in Gujarat. There have been reports of lions walking around casually in the Gir region and videos have come online. The latest video shared by politician and wildlife photographer Zubin Ashara is quite shocking which shows few men mistreating a leopard cub. The video is now going viral and netizens are sharing it to find and identify the culprits. Man vs Wild: Lion Chases Tourists During Safari Ride at Atal Bihari Vajpayee Zoological Park in Karnataka, Video Goes Viral.
The video shared by the BJP Secretary of Ahmedabad shows the men holding a small cub tightly by the neck and hitting it. Another man is boasting of making a video while the little cub is getting ferocious. The one who has held the cub also has a stick in its hand, probably even the hit the cub before. The men are boasting about catching the leopard. Zubin Ashara asked netizens to help in identifying these men so that an action could be taken against them.
Check Out The Video Here:
These culprits should be jailed, they are seen here harassing Leopard cub, anyone who can identify them please Dm me or forest department. This video has emerged probably close to Gir @dave_janak @ParveenKaswan @susantananda3 @mpparimal pic.twitter.com/o48SliXokW

— Zubin Ashara (@zubinashara) October 13, 2019
A lot of netizens commented that strict action must be taken against these men. One of them wrote, "They are just lucky their mother is not around. Else she would be doing the same with them..." Well, in case the mother got around these men, she'd cause severed hurt, or even kill them.
Recently, in West Bengal, a man tried to act too brave and went close to an injured leopard to click its picture. The leopard pounced on the man as he got too close. The onlookers got too scared seeing the wild animal pounce back. The man sustained injuries and the leopard was then taken in for treatment.