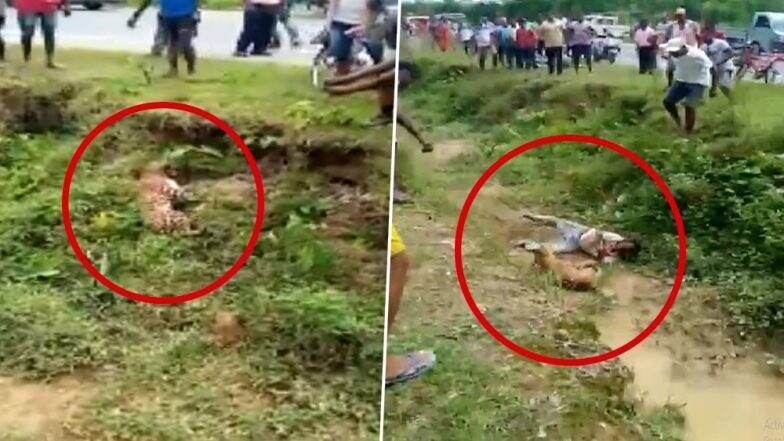 Kolkata, August 19: In a photography attempt gone awfully wrong, a man was attacked by a leopard while he was trying to take pictures of the injured animal. The absurd moment was caught on camera and the video of the incident is doing rounds on social media. The incident took place in West Bengal's Alipurduar district, reported ANI. Leopard Spotted in Thane Again! Wild Cat Seen in Manpada's Butterfly Park by Morning Walkers.
The video shows villagers gathered around a wounded leopard. As the crowd is gathered, the leopard seems unconscious as he is flat on the ground. Sensing that the leopard is unconscoius, the man moved closer to click pictures of the leopard. Pune Mother Fights Leopard to Save Her 18-Month-Old Child.
However, the man gets too close for comfort and the leopard strikes with a lighting speed, shows the video.
Watch the Clip in the Tweet Below
#WATCH West Bengal: An injured leopard attacked a man who was clicking its pictures in Alipurduar. The man sustained minor injuries, leopard has been taken for treatment and will be released in the wild after it recovers. pic.twitter.com/Jok8UFNrWw

— ANI (@ANI) August 19, 2019
As the leopard attacked the man, the villgers were seen running hither and thither. Reports said that the man sustained injuries but is out of danger. The leopard is undergoing treatment and will be released into his natural habibat.