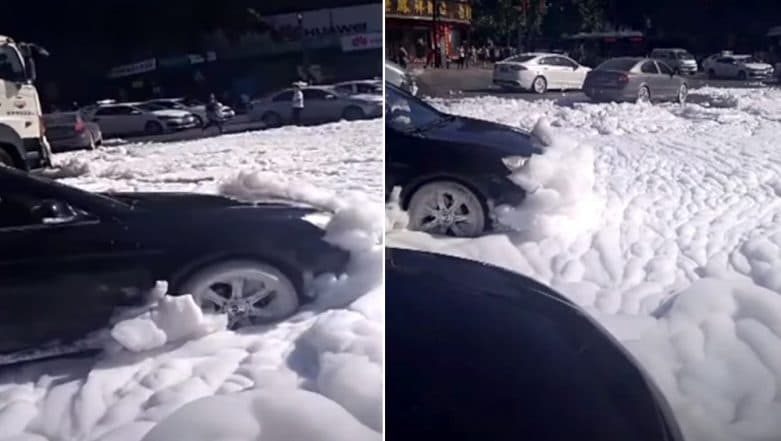 Imagine walking by a road and suddenly seeing foam gathering on the sidewalk? That'd be amusing yet shocking! Residents of the city of Xi'an in China received a similar shock when mysterious foam started coming out of sewers on the road this week. The foam was coming from the manholes on the road and covered about 200 meters of the area. People took videos of the strange incident and needless to say, they quickly went viral. Indians Are Losing 1.5 Years of Their Lives Due To Air Pollution, Says New Study.
As per some reports, almost an entire street was covered in the white foam. As more workers were called in to clean the sewers, the foam kept rising. It was evening by the time the entire road was cleaned. Many people took videos of this foam appearing on the road and passersby were clearly shocked to the see the road covered. Cars tried to make their way through the white foam covered street. Indoor Air Pollution: Making Bread Toasts and Boiling of Water Also Contributes to Air Pollutants.
Watch Video of Mysterious Foam Appearing on a Street in China:
According to a report in the Shanghaiist, officials from the local environment department told reporters that the foam was coming from a commercial concrete. A company in the same locality used the foam in the construction of metro tunnels. This foam had leaked into the sewer which eventually found its way out of the sewage pipes. When the pipes were too full, it started oozing out of the manholes, soon covering the whole street. It was also said that this foam is not dangerous for health.
A similar instance of foam accumulation was seen last year in Bellandur lake of Bengaluru. The untreated sewage, industrial effluents, waste from individual homes being let out in the lake cause the degradation, resulting in the disastrous foam.