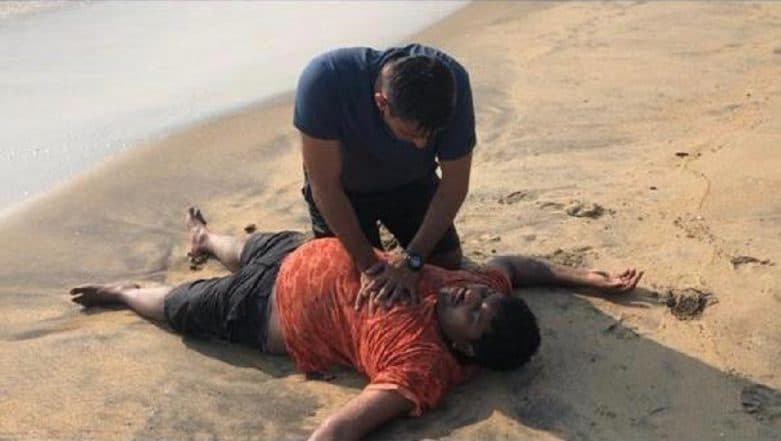 A soldier is never off duty. This was proved by Lieutenant Rahul Dalal, a navigating officer in INS Sutlej, who saved a drowning man at Kerala's Vypin beach. If not for Lt Rahul, the man, identified as Dileep Kumar from Aurangabad, would not had been saved, onlookers claimed. The incident was shared by the Indian Navy on social media, drawing wide praises from netizens.
The incident dates back to April 5, when Lt Rahul was close to the Vypin beach. At around 4:10pm, he spotted Kumar being drifted inwards towards the sea. On seeing him drown, the Naval officer jumped into the waves, swam across and rescued him. Navy Initiates Process to Acquire Submarines Equipped With 500 Km Range Cruise Missile Under Project-75
After bringing him to the shore, Lt Rahul revived Kumar through Cardiopulmonary Resuscitation (CPR), and subsequently rushed him to the nearest government hospital.
"The officer also had to deal with the desperate and panicked victim who was pulling him down, putting both their lives in danger. The officer calmed the victim and made him hold onto his shoulders, after which he started swimming towards the beach," the post said.
Naval Officer's Bravery Wins Hearts on Twitter:
Well done Lt Rahul Dalal. You saved a precious life without thinking twice about your own. This is what we, in the armed forces, are made of.

Super proud of you. Do well & Take Care @ShivAroor @rahulsinghx @SandeepUnnithan @VishnuNDTV @neeraj_rajput @pandeypoonam20 @Anandans76

— Captain DK Sharma (@CaptDKS) April 7, 2019
Jai Hind
So proud of Lt Rahul Dalal. His quick assessment of the danger and further actions saved a life.@indiannavy please convey my gratitude to Lt Rahul Dalal. Thank you for sharing this.

Proud of you all. Always and forever.

Jai Hind. Jai Hind ki Sena.🇮🇳

— Roshani 🇮🇳 (@IndiaBhakt1) April 7, 2019
Real Hero
Thanks for sharing this. Such public appreciation is really required. It will encourage young people to join armed forces. Receiving gallantry medal is generally remains confined however such appreciation spread in masses.

— Chowkidar Abhinav pathak (@Abhinav2307) April 8, 2019
Dileep Kumar's condition is now reported to be stable. He was discharged from the hospital after completely recuperating. Although Kumar was lucky enough, not everyone could meet the same fate. It is recommended for beach-goers to ensure they are way away from the tides, especially when a lifeguard is not around.