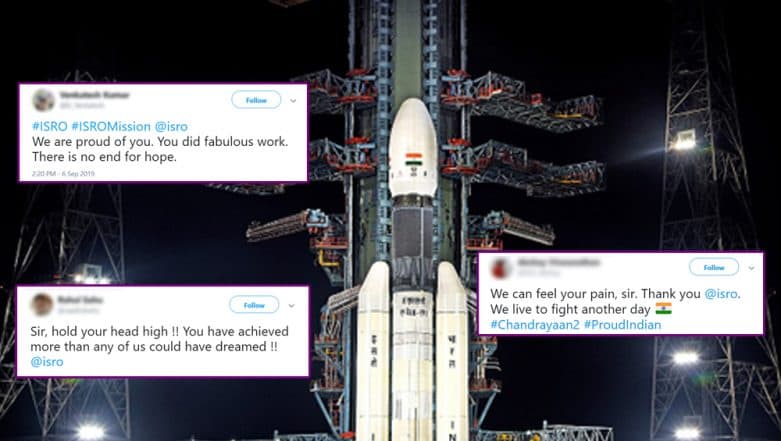 Indians stand united with ISRO, no matter what! We stand with ISRO chief K Sivan and his team proud and happy as ever. So what if Chandrayaan 2 mission faced a setback after the Indian Space Research Organisation lost communication with Chandrayaan 2 spacecraft? The spirits of Indians are high as ever. Although, ISRO lost the battle just inches away from the moon, it is still a win. The lander 'Vikram' was about 2.1 kilometres away from the Moon surface when the contact was lost. However, while PM Narendra Modi confronts the nation at this moment, people on Twitter and other social media platforms are saying that they are proud of ISRO and that they unanimously stand with the scientists. Keeping a positive attitude towards the setback, netizens are all about firm hopes. People are using social media to make sure that ISRO scientists and everyone behind the mission don't feel discouraged. Chandrayaan 2 Moon Landing: ISRO Loses Communication With Vikram Lander Just 2.1 km Away From Moon's Surface, Chairman Dr K Sivan Says Data Being Analysed; India 'Proud of Scientists'.
PM Modi took to Twitter to say to the scientists at the ISRO Centre that, "There are ups and downs in life. This is not a small achievement. The nation is proud of you. Hope for the best. I congratulate you. You all have done a big service to the nation, science and mankind. I am with you all the way, move forward bravely." And meanwhile, netizens are all about positivity.
Check Twitter Reactions:
Whatever it Takes
Whatever it takes....#ISRO never stops exploring..#ProudOfISRO pic.twitter.com/VJvPOo2sMy

— Harsha Vardhan (@phv99) September 7, 2019
Proud of You, Say Netizens.
We lost communication,not the abilities. We are still there. Love you @isro❤️ Proud of you🇮🇳#ProudOfIsro#Chandrayaan2

New header pic pic.twitter.com/1vCEGjcXmt

— Anjali 🇮🇳 (@iamanjooti) September 7, 2019
Here's What Kiran Mazumdar Shaw Said
The path to success will have pit falls but effort n endurance will clear the path n succeed we will. ISRO scientists will figure it out. The orbiter is a great sign of their scientific success. #ProudOfISRO https://t.co/S4ZX6XAc35

— Kiran Mazumdar Shaw (@kiranshaw) September 7, 2019
Encouragement
We missed this time but This shall be a reality soon, ISRO.

Key is never give up!#ProudOfISRO pic.twitter.com/LsAUQoLWBf

— Geetika Swami (@SwamiGeetika) September 7, 2019
India Stands With ISRO
#ProudOfISRO To our scientists I want to say- India is with you. You are exceptional professionals who have made an incredible contribution to national progress .PM

-I am meeting you not to lecture you but to get inspired from you: PM Modi to scientists at Isro

— Totlani Krishan (@kktotlani) September 7, 2019
Never Lose Hope
Kudos TO The Team Of @isro For Their Dedication Towards The Nation. It Opens The Path For The Youngsters Who Has The Ability LiKe You. Keep Inspiring As Always. Ups & Downs Are The Process Which Teaches US TO Grow More Brightly Hope's Are Always There #ProudIndian #ProudOfISRO pic.twitter.com/edNg9gY7ms

— Abhishek Joshi (@joshi1090) September 7, 2019
India is Proud
We are still proud of @isro ❤❤❤❤ good luck for future#Chandrayaan2Live #VikramLander #proudindian#Chandrayaan2Live pic.twitter.com/Wk0pnBQoWZ

— Sandeep kumar (@sandymsd7) September 6, 2019
Hopes Never Dies
NASA failed 10 times before its first Impact mission.

We can give ISRO one more chance. #Chandrayaan2Live #IndiaMakesHistory #Moonmission #ProudIndian#ISRO We are always proud of you pic.twitter.com/ufFN7FAosG

— PaniPuri (@THEPANIPURI) September 6, 2019
Chandrayaan 2 Moon Landing: Communication With Lander Vikram Lost [Watch Video]
ISRO cancelled the press conference which was scheduled to take place after Chandrayaan-2's Vikram lander's touchdown. However, further information suggests that the lander "Vikram" began its final descent on the South Pole of the Moon at 1:38 am on Saturday. And reports have it that while the lander was moments away from making a soft-landing on the Moon surface, signals stopped.