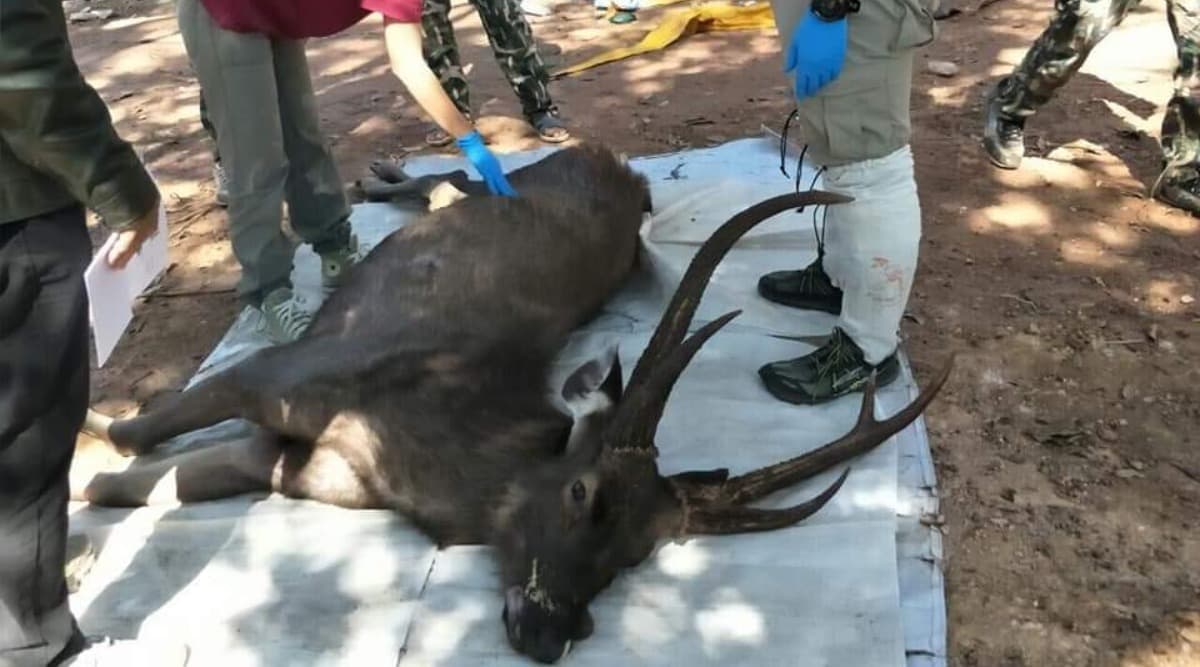 A wild deer was found dead at a national park in northern Thailand with 7kg of rubbish in its stomach. Thai conservation officials said they found men's underwear, instant coffee sachets, parts of plastic ropes and bags in the animal's tummy. The 10-year-old wild stag had no external cuts or wounds on its body. According to the Department of National Parks, Wildlife and Plant Conservation, the deer was found on Monday in Khun Sathan National Park in Nan province in northern Thailand. Plastic Pollution Kills Another! Sperm Whale With Plastic Sheeting in Stomach Washes Up on Wales Beach (Watch Video)
A park official said that the animal died due to two days before it was found. DNP took to social media detailing the elements found in the animal's stomach. According to the department, the animal died due to a gastrointestinal obstruction in addition to its old age.
Kriangsak Thanompun, a director at the National Park, Wildlife and Plant Conservation Department told BBC News Thai, "We believed it had been eating those plastics for a long time before it died. Officials (believe) the plastics had blocked up its alimentary canal (but a) further investigation (will be) launched." Thailand's Beloved Baby Dugong 'Mariam' Dies Due to Plastic Pollution! Three Other Heart-Breaking Times When Plastic Killed Sea Creatures.
Kriangsak said that a "three-phase plan" would be implemented to make the local people collect plastics and other rubbish in the national park area. A committee will be set up to deal with waste management and to educate the public on stop littering. Lone Cape Buffalo in Delhi Zoo Dies After Eating Plastic, Post-Mortem Reports Show Discarded Packet in Its Stomach.
Pictures of Dead Deer With Plastic in Stomach!
#สุดสลด กวางป่าขุนสถาน กินขยะพลาสติกตาย ปิดผ่าอวัยวะภายในพบขยะพลาสติก จำนวน 7 kg ประกอบด้วยซองกาแฟ ซองเครื่องปรุงบะหมี่กึ่งสำเร็จรูป ถุงพลาสติกจำนวนมาก ถุงดำ ถุงมือยาง ผ้าเช็ดมือ กางเกงในผู้ชาย เชือกฟาง #ขยะพลาสติก #กวางป่า #กรมอุทยานแห่งชาติ #dnpreport pic.twitter.com/p8PHvdEOSA

— กรมอุทยานแห่งชาติ สัตว์ป่า และพันธุ์พืช (@DnpReport) November 25, 2019
As per a 2015 report by Ocean Conservancy and the McKinsey Center for Business and Environment, Over 50 percent of the plastic found in the oceans comes from China, Indonesia, the Philippines, Thailand and Vietnam. According to environmental group Greenpeace, some 75 billion pieces of plastic bags are thrown away each year in Thailand. In September, the country's environment minister said that major retailers would stop providing single-use plastic bags from January 2020.