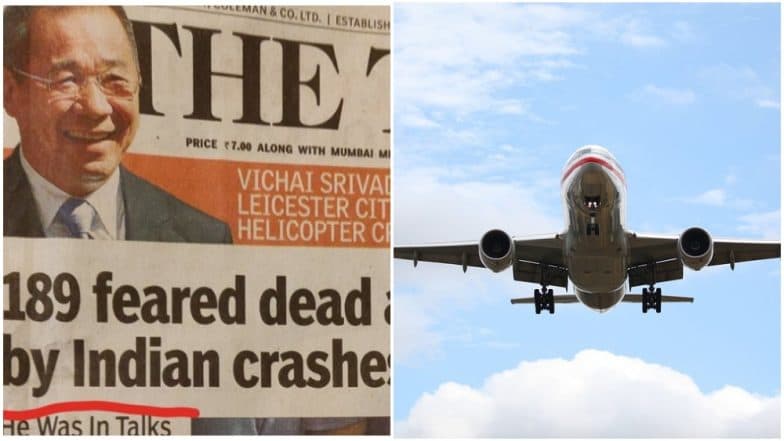 Leading newspaper, The Times of India has apologised following the headline of their first-page story on Lion Air crash invited criticisms. Twitterati on Tuesday hit out at the daily for framing the headline in a manner which suggested that the Indian pilot responsible for the crash. Social media users attacked TOI for the headline that read "189 feared dead as plane flown by Indian pilot crashes into Java Sea". After the outrage on social media, TOI Wednesday's edition has issued a clarification along with an apology.
Defending their stand, their statement reads, "Many of our readers have objected to the headline '189 feared dead as plane flown by Indian crashes into Java Sea'. Nowhere in our report was there even the slightest suggestion that the crash may have been caused by pilot error. In fact, the report quotes a senior airline official to say he was 'an experienced B737 Pilot with impeccable credentials'." TOI Headline on Indian Pilot Flying Lion Air Plane That Crashed in Indonesia Angers Readers, Newspaper Faces Flak on Social Media
Explaining their stand, the statement further states, "Clearly, it was never our intent to be insensitive. As an Indian paper, we look for Indian connections in global stories-the overwhelming majority of them are happy, inspiring stories of Indian who've done outstandingly well in their respective fields of work or study. But there are also some sad stories- of Indian passengers in a plane crash, or Indian being among those killed in a terror attack in another country. The death of an Indian pilot on Sunday fell in that category. For us, it brought home a tragic incident that took place thousands of miles away. Having said that, we sincerely apologise for any hurt we may have caused. That's the last thing we intended to do."
Comedian Atul Khatri who had criticised the newspaper for the headline took to Twitter sharing their apology. He tweeted saying, "Yesterday I posted about @timesofindia ka headline. Today they posted their clarification so it's only fair that I post it as well."
Here is the tweet:
Yesterday I posted about @timesofindia ka headline.

Today they posted their clarification so it's onlh fair that I post it as well. pic.twitter.com/hOe845T1gP

— Atul Khatri (@one_by_two) October 31, 2018
Indonesian Lion Air plane carrying 188 passengers and crew including Indian pilot Bhavye Suneja and co-pilot Harvino crashed into Java Sea on Monday. The passenger plane was travelling from Soekarno-Hatta (Tangerang) to Pangkalpinang when it crashed near Kerawang after taking off from Jakarta Soekarno Hatta International Airport. Captain Suneja who was a resident of Delhi's Mayur Vihar joined the airline as the pilot in March 2011. He did his schooling from Ahlcon Public School in 2005 and has also been a trainee pilot for the Boeing 737NG.