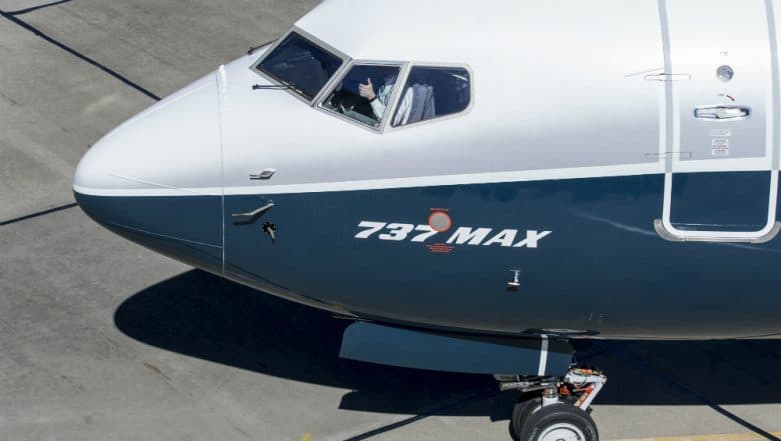 Mumbai, April 30: Did Boeing sacrifice safety for profit? It would certainly seem so according to a report by the Wall Street Journal that reveals that Boeing had deactivated a standard safety feature designed to warn pilots about malfunctioning sensors in the 737 Max version of its aircrafts.
This was revealed by Southwest Airlines, Boeing's largest 737 Max model's customer. The safety light is programmed to come on in the cockpit if a plane's angle-of-attack sensors transmit faulty data about the pitch of the plane's nose. This safety feature, known as an angle-of-attack disagree light, was included in previous versions of the 737 but was switched off in the Max versions and available only by purchasing a package of safety upgrades. The Boeing's MCAS anti-stall software (which automatically corrects the plane's nose based on sensor readings) is being blamed for the Ethiopian Airlines crash this year which has led to the grounding of all Boeing 737 Max 8 aircrafts across the globe.
Southwest Airlines, one of the largest airlines in the U.S. says Boeing did not disclose that it had deactivated this safety feature and was told about it only after the Lion Air 737 Max crashed in Indonesia in October last year. The airlines released a statement which says, the safety feature was "depicted to us by Boeing as operable on all Max aircraft, regardless of the selection of optional AOA Indicators on the Primary Flight Display (PFD). The manual documentation presented by Boeing at Southwest's MAX entry into service indicated the AOA Disagree Light functioned on the aircraft, similar to the Lights on our NG series. After the Lion Air event, Boeing notified us that the AOA Disagree Lights were inoperable without the optional AOA Indicators on the MAX aircraft."
Boeing did not react to Southwest Airline's statement but said that as the 737 Max planes return to service "all customers will have the AOA disagree alert as standard."
Meanwhile, Boeing's annual shareholder meeting in Chicago saw the company's CEO Dennis Muilenburg defend the 737 Max's safety systems saying, the pilots did not "completely" follow the procedures that had been outlined to prevent the kind of malfunction that probably caused a March 10 crash of an Ethiopian Airlines jet. He added that Boeing was unable to find any "technical slip or gap" in building its MCAS software.