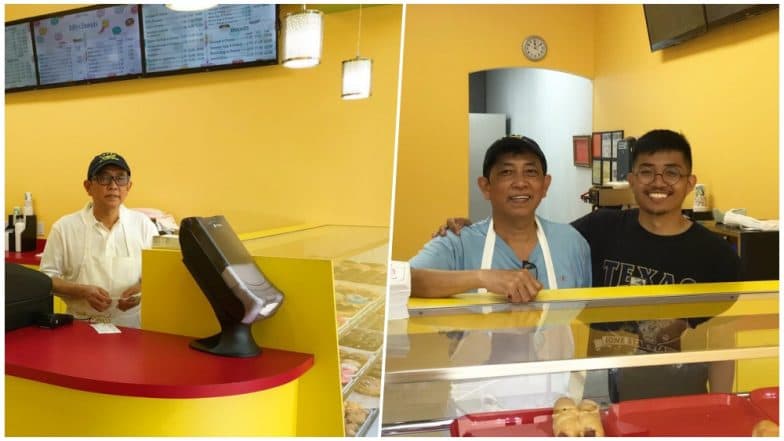 As much as hate spews on the internet, there are also some instances that renew the faith and power of kindness. In a recent example of internet uniting for a good reason, a doughnut shop owner in Texas had his sales hitting the roof after the first few days of no sale at all. It so happened, a son tweeted the picture of their new doughnut shop opened in Texas. He also put up a picture of his dad who looked visibly sad about no one visiting their cute little shop. The tweet went viral and over thousands of people rushed to the store to buy doughnuts and make the father happy. The tweet has got so much response that even good folks of Twitter have said they will drop by the shop to buy doughnuts from there. Twitter Helps Long-Lost Childhood Friends Meet, Sets Up Go Fund Me Page for Their Meet.
Son of the owner of Billy's Donuts tweeted a picture of his store and his dad standing behind the empty counter. He also put up the address of the place in the next tweet. He wrote, "My dad is sad cause no one is coming to his new donut shop." The tweet soon went viral and the good people on the internet decided to make the man happy by visiting the store. Soon enough, the sales of the shop were hitting the roof and the owner was definitely left with a smile. The kindness that took place on Twitterati, could not go amiss by the official Twitter account too. Twitter's account also tweeted that they would drop by the shop soon. New York Police Find Lost Engagement Ring, Twitter Helps Officers Track Down the Couple.
Check Billy's Tweet About His Sad Dad That Went Viral 
My dad is sad cause no one is coming to his new donut shop 😭 pic.twitter.com/y5aGB1Acrc

— billy (@hibillyby) March 9, 2019
The tweet has until now raked more than 2 lakh retweets and 6 lakh likes. Not just these actions on social media, but people actually went and ate doughnuts there. Billy, once again put out a happy update.
Just wanted to update yall! We completely sold out of donuts and kolaches! You are all amazing. I can't thank everyone enough for coming out and supporting local businesses. This means so much to my family ❤️ pic.twitter.com/o3GQcKvVnG

— billy (@hibillyby) March 10, 2019
Isn't that amazing? The shop had people lining up waiting for their turn to buy the sweets the next morning. What's more like a cherry on the cake is the official Twitter account talking about it too.
Check Out Twitter Official's Tweet About Visiting Billy's Donuts
You donut want to miss out on Billy's and neither do we! We'll be there tomorrow morning 🍩♥️#LoveTwitter https://t.co/NpTAXW4R53

— Twitter (@Twitter) March 10, 2019
Clearly, the shop has got all the publicity it needed within a night. We are sure it will leave a smile on the owner's face every day as more and more people will discover the lovely doughnuts they have here. This is what the good power of the internet looks like.