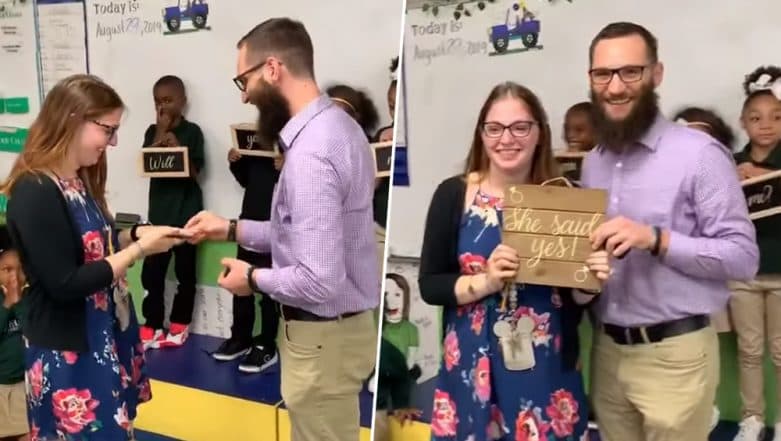 A teacher at school in Wilmington, Delaware proposed his girlfriend in the most unique way. Special education teacher Chelsea Darczuk, had a feeling that her boyfriend Jared Kauffman is going to propose very soon but was blown away when she walked into a classroom on Thursday. Jared popped the question to girlfriend Chelsea in front of a room full of staff and teachers. The main attraction was young students who stood holding mini-chalkboards with 'Will you marry me?' written on them. World's Most Unique Wedding Proposal? Japanese Man Travels 6 Months to Spell 'Marry Me' on Google Earth, Watch Viral Video.
As Chelsea whispered 'Yes', kids from EastSide Charter School can be heard in shouting 'Kiss, kiss, kiss!' in the background. Chelsea had got a message from her boss asking for some help with the literacy programme. She went back into the classroom to find her boyfriend and other teachers waiting for her. As she walked into the classroom, Jared went on his knees with a ring and said that she loves her. Amidst giggles and laughter, he asked her 'will you marry me?' Love Is in the Air! Pilot Proposes to Girlfriend at 5,000 Feet, Before Pretending to Make Emergency Landing (Watch Adorable Video)
Watch The Video of The Unique Proposal Here:
Chelsea and Jared are planning to get married wedding in September next year. Yahoo Lifestyle quoted her as saying, "It didn't click at first because I had mentally prepared myself for the possibility of getting engaged this weekend." The proposal came as a complete surprise for the teacher as she thought he would pop the question in their upcoming long-weekend getaway. Earlier this week, story of a man proposing his girlfriend for an entire month without letting her realise had gone viral on social media.