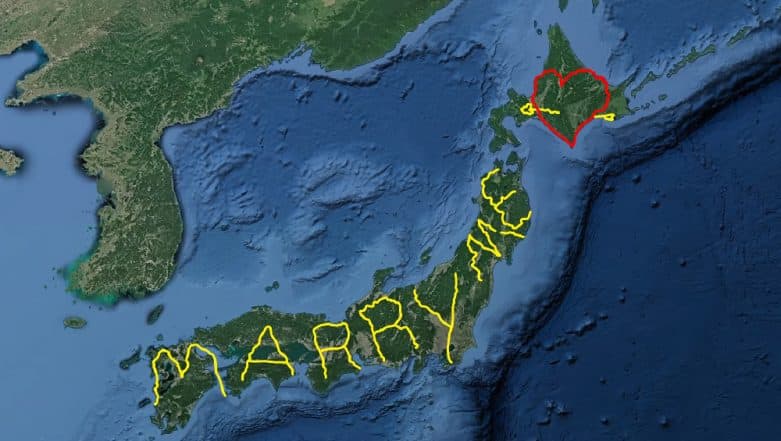 An artist from Tokyo decided to make his wedding proposal so unique that it has set a record. Yasushi "Yassan" Takahashi decided to rely on Google Earth to ask his partner for marrying him. And thus, he set out a plan to travel across Japan, in a way that his GPS route spelt out 'Marry Me' on Google Earth. It took him years to plan this but he knew what he had to make his proposal unique. A video of his idea was shared by Google themselves and now the world can't stop talking about it. Takahashi has impressed all netizens. Engagement Ring Lost in Vagina! Proposal Gone Wrong as Kinder Egg with Ring Stuck Inside Woman's Privates.
Takahashi always had a desire to make his proposal unique and he learnt about digital art using GPS in the year 2008. So he began planning his route throughout the country to spell out the two special words, 'Marry Me,' with which he ends his journey. His girlfriend Natsuki was obviously overwhelmed with the gesture. She was quoted to China Morning Post, "It was a big surprise. I felt the greatest love in the world." Well, when one part of the world spells it out for you, we are sure it would be the best feeling. Google themselves took notice and shared his video on social media. Love Knows No Heights! Indian Man Becomes First to Propose on World's Longest Zipline, Watch Video.
Watch Video of Tokyo Man's Proposal to Girlfriend Using Google Maps:
All this while, when Takahashi was travelling, his girlfriend was wondering where is he going all alone without her. But when she got the result she was too happy and it was definitely the biggest surprise ever. It wasn't easy of course, he had to go through extreme weather conditions but he got some great experiences all the way. He travelled over 7,000 kms and it was definitely worth it. Well, hats off to this guy who has set a record of wedding proposals.