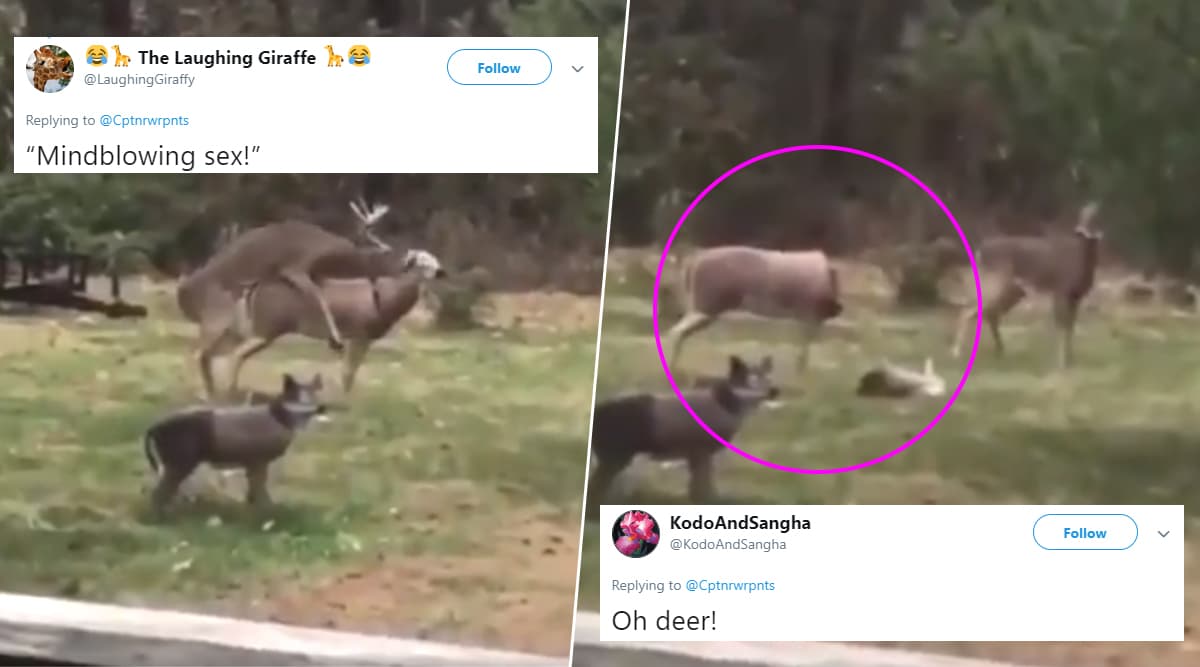 Internet is an amazing place. So many funny memes, jokes and funny videos that go viral on social media, simply makes our day, in no time. One of the most recent as well as super hilarious examples of a viral video that will make you ROFL is this one of a deer trying to have intercourse with a statue deer. Well, this isn't even the funniest part. Once the buck starts humping the statue from behind trying really hard to insert its penis into the statue doe, the head of the effigy falls off. The deer is, then, completely taken aback and jumps off the statue deer, instantly. The reaction is super fun to watch. Horny Situation! Two Deer Whose Horns Get Locked While Mating Freed by Hunter With Electric Saw (Watch Video).
The video is going viral on Twitter and trust us when we say that that the whole trail of tweet reactions on the video is a hilarious roller coaster ride. The video was shared on Twitter with a caption that asked Twitter users to caption it, and as expected, Twitteratti had a field day! People used their puns, sarcasm and all the other skills to make memes and jokes about the deer video.
The video seems to be have been shot in a park where, statues of other animals were present too. Well, netizens didn't want to leave the opportunity of making memes and jokes out of this hilarious video and its nothing less than a treat! You will have to check out the video first to understand how funny it is and if you come up with a hilarious reaction, let us know! But first, here's the viral video:
Caption this pic.twitter.com/QNDEXSsAUF

— Alisha 🧀✌🌊🤘🌊 (@Cptnrwrpnts) November 15, 2019
Check Out The Funny Meme Reactions:
My name's Buck, and I'm here to fuck pic.twitter.com/uaqWPExmby

— BongFleet🖖🏻🌱✨🚀🌌 (@BongFleet) November 15, 2019
I Can't Even
Blew her head off with his buck shot

— Stove (@steveasaur85) November 15, 2019
Legit
"Mindblowing sex!"

— 😂🦒 The Laughing Giraffe 🦒😂 (@LaughingGiraffy) November 15, 2019
It Surely Does
The Buck stops here.

— Rob's Podcast Mug (@robspodcastmug) November 15, 2019
LOL
Oh deer!

— KodoAndSangha (@KodoAndSangha) November 15, 2019
It's Yours Now
You broke it, you bought it

— Deflated Dodgeball™ (@AboveAverageTom) November 15, 2019
IKR
What the hell is it bizzare as hell

— MichelleC (@Laughingmichell) November 15, 2019
LOLOLOL
Guess a blow job is a no no then

— Col Dawson🏍 (@ColinCDawson) November 15, 2019
The Funny Reactions Won't Stop!
'Excuse me humans. Can you fix my blow up doe?"

— Patricia - One Cat Shy of Crazy Cat Lady (@pgail61) November 16, 2019
I Can Legit Hear It!
Way to kill my boner Karen.

— Jo wants Im🍑ment (@Lumber_jo) November 15, 2019
Words Of Wisdom
Never buy a discount love doll.

— Boje Rinhart (@brinhart) November 15, 2019
Can't Stop laughing
He was looking for tail but she surprised him with some head.

— Melanie Marshall (@MarshMellowYums) November 15, 2019
Dammit!
She thought I was so good, not only did I knock her socks off , i knocked her head off too

— Proudfeather (@proudfeather) November 16, 2019
Exact
take it like a... pic.twitter.com/15SLs9xZPl

— audrey wells (@audreyfringe21) November 15, 2019
ROFL
That buck is the perfect example of a true stud.

— Kevin M 🇨🇦❄✌🇨🇦 (@backbeatlosit) November 15, 2019
These are just some of the umpteen hilarious reaction the video has received. The video has received over 61k views, as of now, and people cannot stop commenting. Deers are amazing animals. Just earlier this year, a video of a deer playing dead to escape from not one but two of its predators was going viral. As a cheetah is about to pounce on it, a hyena comes to drive the cheetah away and the deer fools both the animals to sprint into the jungle safely.