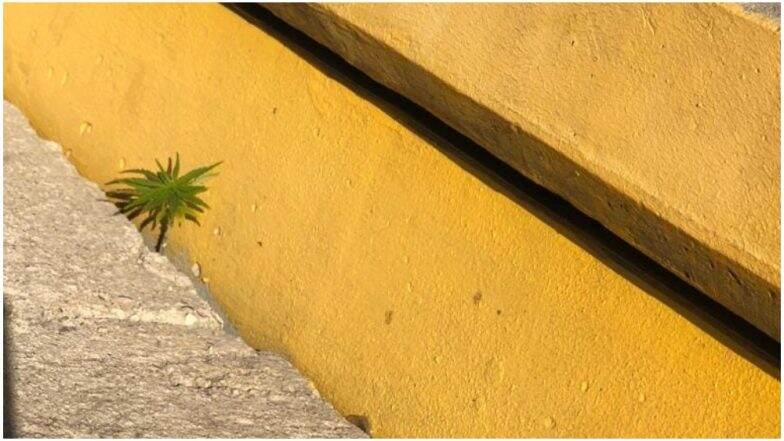 Uruguay became the first country to legalise marijuana in 2013, following which Canada also legalised cannabis for recreational purposes. And as Uruguay is struggling to keep up with the increasing demands of the growing USD 4 billion industry, a video going viral shows tiny marijuana plants growing in a football stadium in the country. The video was taken at Estadio Campeón del Siglo located in Bañados de Carrasco in Montevideo.
Audience sitting on the stands made the new discovery and also excitedly showed others in the crowd. Alvarosaithe took to Twitter sharing the video saying that in Uruguay marijuana germinates even out of the cement. He then goes on to show video of tiny plants coming out of cemented steps. Canada Becomes Second Country To Legalise Recreational Marijuana After Uruguay, Looks at USD 4 Billion Dollar Industry
Watch the video below:
En el país de Peñarol donde el cogollo es legal no podía ser de otra manera , en nuestro estadio germina plantines entre el cemento jajaja pic.twitter.com/zc5y71gdO1

— Álvaro carbonero (@lvaro11343062) October 14, 2018
Canada is the first major Western major to legalise marijuana, regulate its sale and recreational use. While the move was praised by pot lovers, health professionals were not in praises of it. According to The Moscow Times, football fans were allowed to bring marijuana, cocaine and heroin to the World Cup with supporting medical documents.
Se ve que de las puntas que dejamos agarró alguna semillas pic.twitter.com/RQiAtK5lz2

— Álvaro carbonero (@lvaro11343062) October 15, 2018
Currently, in Uruguay, cannabis is sold at select pharmacies without a prescription. Citizens of Uruguay can purchase up to 40 grams per month at the pharmacies. The price of marijuana in Uruguay has been set at USD 2.50 per gram. Currently, only two companies have been licensed to produce commercial cannabis in the country. Meanwhile, there is an increase in the number of registered cannabis clubs where people can grow their own marijuana. They are only allowed entitled to 480 grams of marijuana in one year.