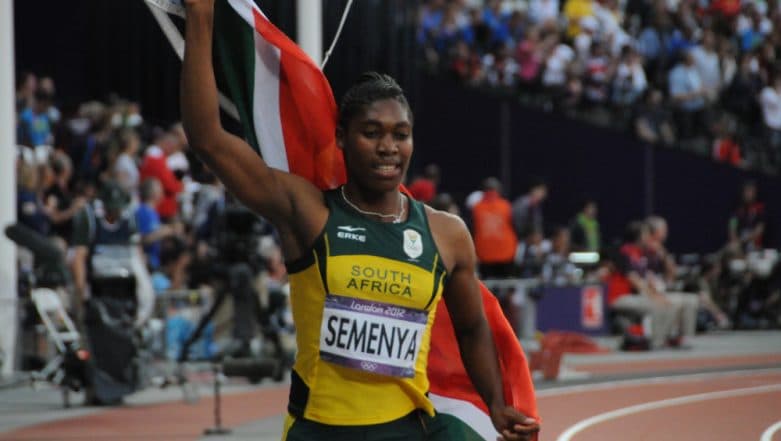 South African middle-distance runner and Olympic gold medalist Caster Semenya has called out IAAF's (International Association of Athletics Federations) A draconian Hyperandrogenism Regulation by challenging the rule at the Court of Arbitration for Sport as per a report in the Agence France-Presse. The 800 meters champion Semenya had been asked by the IAAF to lower her testosterone levels through drugs if she wanted to participate in international sporting events.
The South African government has backed Semenya, saying that IAAF's regulations are specifically targeted to the sprinter and called the rules a "gross violation" of her rights.
The IAAF's controversial Hyperandrogenism Regulation targets female athletes who are "hyperandrogenic" or have more testosterone in the body. Excess of the male hormone in the body will give the female athletes an undue advantage over their competitors, according to IAAF. They will have to take drugs to lower the hormonal levels if they want to compete for athletic events.
The execution of the rules introduced in November 2018 was put on hold until the hearing this week. Semenya is expected to attend the hearing at the Lausanne-based Court of Arbitration of Sports. Why IAAF's Sexist Policy on 'Femaleness' and Hyperandrogenism Is Unfair to Deserving Female Athletes.
The Times reported that based on Semenya's high testosterone levels, IAAF is likely to argue that she's biologically a male and should be classified as such. But the IAAF denying any such claims, and Semenya has responded to the allegations saying she was an "unquestionably a woman."
The IAAF on its part has hit back at allegations of targeting Semenya. The association has said that the rules were general and not meant to single out any one athlete. It released a statement saying that if an athlete with "differences of sexual development" (DSD) athlete has testes and high levels of testosterone – equal to those of a male – they get an edge over women due to the enhanced muscle and bone strength.
"Therefore, to preserve fair competition in the female category, it is necessary to require DSD athletes to reduce their testosterone down to female levels before they compete at international level.
Support for Semenya
Semenya is not alone in her fight against IAAF's draconian regulations. Other athletes have also backed her – one of whom is tennis great Martina Navratilova. Earlier, Duttee Chand, the Indian sprinter had offered legal help to the Olympic champion, to fight the sexist charges.
Apart from Semenya, other two athletes, Francine Niyonsaba of Burundi and Margaret Wambui of Kenya have also faced such charges. But the 28-year-old Olympic gold medallist refused to accept the unjust rules and moved court.
Her legal team said that a high testosterone level is her "genetic gift" which should be celebrated instead of discriminated against.
South Africa's Sports Minister Tokozile Xasa has argued that the rules are discriminatory. "What's at stake here is far more than the right to participate in a sport. Women's bodies, their wellbeing, their ability to earn a livelihood, their very identity, their privacy and sense of safety and belonging in the world, are being questioned," Xasa explained.
He further went on to say that such rules will hinder little girls from pursuing their dreams of becoming sportswomen.
Semenya has also received "unqualified support" from athletes back home. Even Cricket South Africa said that it would stand behind its national icon in her fight against IAAF's act of discrimination.