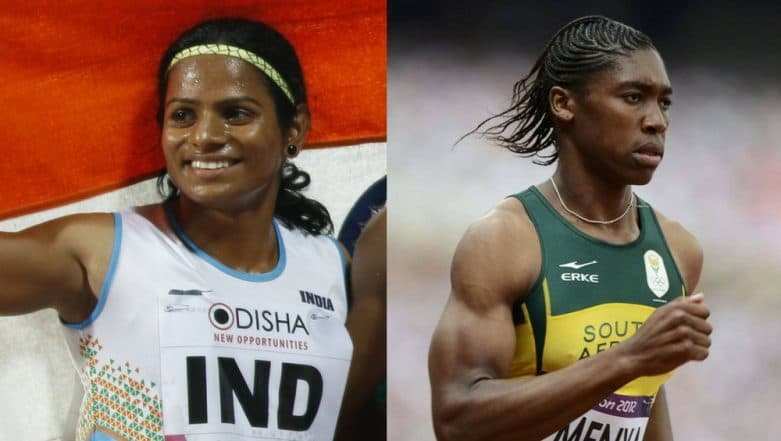 Indian sprinter 22-year-old Dutee Chand has reached out to fellow sprinter Caster Semenya who has been facing hyperandrogenism charges by the International Association of Athletics Federations (IAAF). Slamming the new testosterone rules as "wrong," Chand has offered legal help to the Olympic champion to fight the sexist charges levelled against the South African middle-distance runner Semeya, who has been asked to reduce her body's testosterone levels to compete in the international races. Here's why IAAF's Sexist Policy on 'Femaleness' and Hyperandrogenism Is Unfair to Deserving Female Athletes
The Indian sprinter had come under IAAF's hormonal regulation scanner in 2014 and was barred from competing in the 2014 Commonwealth Games. She had taken her case to the Court of Arbitration for Sport (CAS) and won the court battle for her right to run even with her hormonal imbalance.
But luckily for Chand, the IAAF's new regulations do not include 100 metre 200 metre races which she competes in. The press release issued by the organisation states that the new eligibility regulations will be applicable to "400m to the mile, including 400m, hurdles races, 800m, 1500m, one mile races and combined events over the same distances."
Earlier this week, Chand accused the federation's ruling for "targeting" Semenya and said that she feels for her ordeal. At the same time, she also expressed her relief of being excluded by the new regulations. She told Agence France-Presse: "I lost crucial years of my career when I could not focus on my training and initially (in 2014) lost six months which is a significant time in a sportsperson's life." The 22-year-old is now preparing to compete at the Asian Games in Indonesia and the 2020 Olympics in Tokyo.
As criticism against the draconian regulation mounts, the IAAF on its part has clarified its stance in the media release saying that they have a responsibility to ensure a level playing field for the athletes. Defending the regulation, the federation stated that it exists to ensure there is clarity in the competition criteria for men's and women's events. "Our evidence and data show that testosterone, either naturally produced or artificially inserted into the body, provides significant performance advantages in female athletes. The revised rules are not about cheating, no athlete with a DSD has cheated, they are about levelling the playing field to ensure fair and meaningful competition in the sport of athletics where success is determined by talent, dedication and hard work rather than other contributing factors," says the IAAF