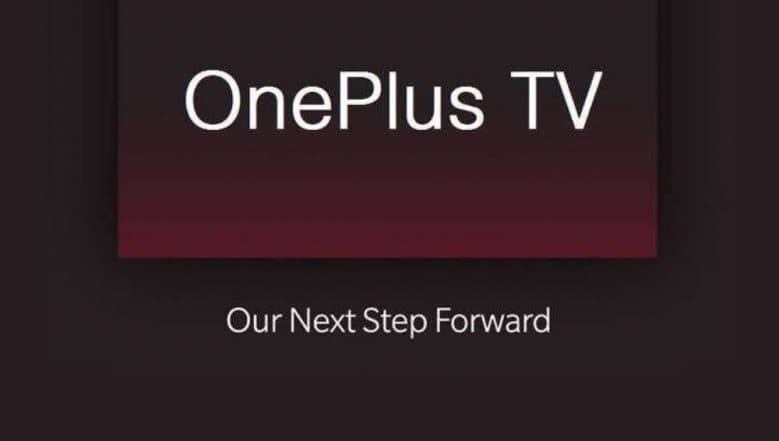 We already know that OnePlus is eyeing at the TV space after revolutionising the premium smartphone space. Moreover, the Chinese smartphone manufacturer has already made it clear that it would be focusing on the Indian Television market with its upcoming OnePlus TV. Though we are still awaiting an official announcement from the company, a new online leak signifies a possible timeline for the OnePlus TV India launch. OnePlus 7 Pro Almond Colour Variant Now Available For Online Sale Via Amazon India.
Have some good news for you all: The OnePlus TV is not very far away, at least according to one source. The launch might be soon, so stay tuned. I have very high expectations from it, what about you? #OnePlus #OnePlusTV 😀 pic.twitter.com/qzCJnfozi4

— Ishan Agarwal (@ishanagarwal24) June 21, 2019
As per the tweet from a reliable leakster - Ishan Agarwal, the Chinese phone manufacturer is expected to launch the OnePlus TV in India Soon. The tweet clearly hinted that the India launch of OnePlus TV is closers than anticipated. He stated in the tweet that, "The OnePlus TV is not very far away, at least according to one source. The launch might be soon, so stay tuned."
The leakster also mentioned that OnePlus's upcoming Television won't be coming with OLED panel as they are used by all premium TV manufacturers. It will be surprising, if OnePlus launches the TV with an OLED screen. However, we won't be seeing OLED screens for the fact that OnePlus would be looking to keep the prices very competitive.
Moreover, OnePlus India's General Manager, Vikas Agarwal as confirmed that launch of OnePlus TV at the launch event of OnePlus 7. He mentioned that, "OnePlus TV is our next focus for the Indian market." It however contradicts what OnePlus CEO Pete Lau had said. Lau was quoted as saying that the OnePlus TV won't launch before 2020. He also revealed that the delay is because the company is taking its time in making the product the "best there is".
As majority of the details about OnePlus TV still remains under wrap, it is speculated that the forthcoming Television might come with 4H HDR support as well as built-in AI assistant. It is also reported that OnePlus TV will be made available for sale through Amazon India. When launched in the country, OnePlus TV will be pitted against Xiaomi's Mi LED TV line-up. Xiaomi sold more than 2 million TVs in the country ever since their launch around 15 months back.