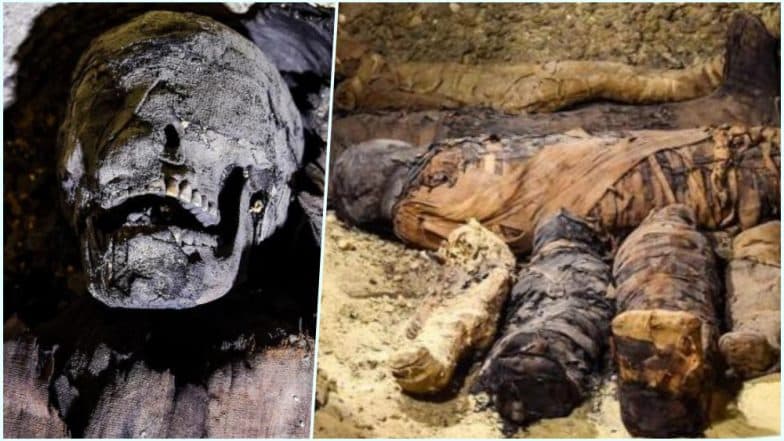 Ancient Egypt has a lot to say. Swarms of diggers, scanning equipment and studies often fail to exhaust this rich culture. It is these unexpected discoveries that help the researchers to learn more details on the Egyptian archaeology. A pharaonic tomb containing 50 mummies have just been found that reportedly dates back to the Ptolemaic era (323 to 30 BCE). Although there is a lot to study, the archaeologists reported that the chambers which were cut out of a rock, belonged to a middle-class family who may have lived before the birth of Jesus. Egypt Discovers 4,400-Year-Old Tomb of Ancient High Priest Wahtye. 
The 2,400-year-old mummies have been discovered in the South of Cairo inside four burial chambers in the Tuna El-Gebel archaeological site. The identities of the mummies were still not known, but officials say they were likely to have held significant positions back in time. Out of the total discovery, 2 were reportedly children; some were wrapped in linen, others were in stone coffins or wooden sarcophagi. 2000-Year-Old Black Sarcophagus Tomb Discovered by Archaeologists in Egypt. 
Pictures of Egyptian Mummies Discovered Near Cairo
Tomb containing 50 Egyptian mummies including children dating back 2,400 YEARS is discovered near Cairo https://t.co/vaZn2olrpu pic.twitter.com/T3BSPGxZ2l

— Florida Post (@post_florida) February 3, 2019
Mostafa Waziri, secretary-general of the Supreme Council of Antiquities was quoted in media reports as saying, "The grave that we are talking about here has a well that is almost nine metres deep, leading to four chambers underground holding a great number of mummies — over 50 mummies." The mummies are in good condition, and some of them were decorated with "demotic handwriting;" a form of ancient Egyptian script which was used by ordinary people.
Egypt surprises the researchers with a series of finds recently, and the government has been heavily promoting them to revive its tourism industry. The recent archaeological finding was the first of 2019. They were unearthed through a joint mission with the Research Centre for Archaeological Studies of Minya University. Apart from the mummies, some pottery, papyri and colourful mummy cases were also unearthed from the same spot.