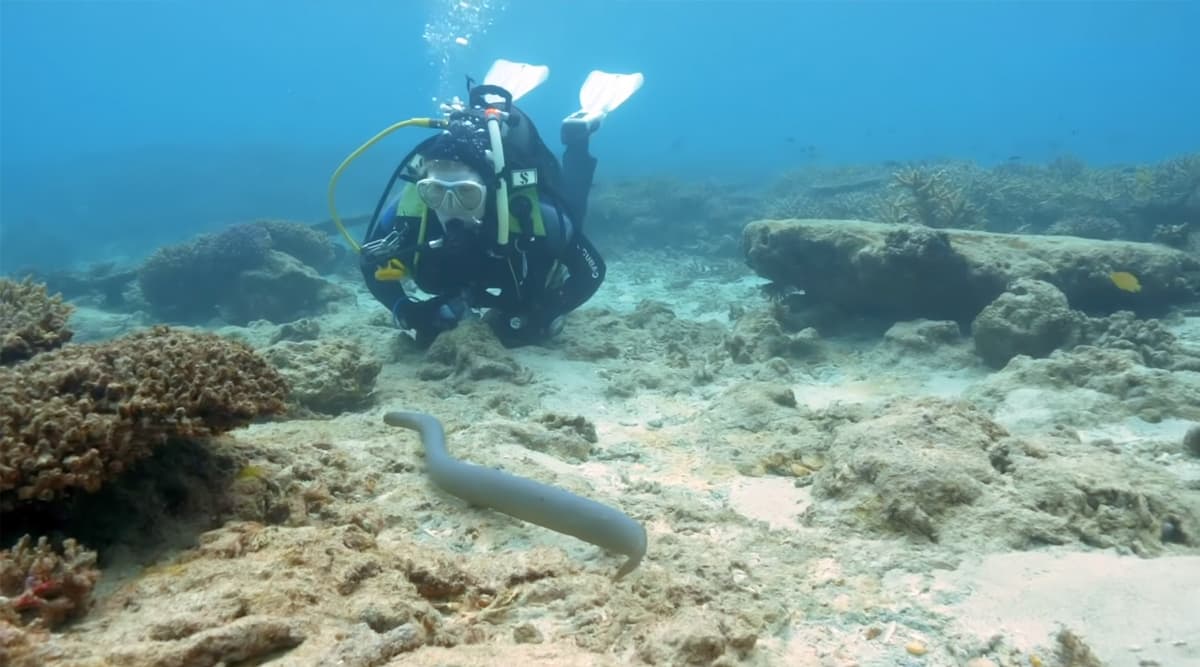 Age is just a number, and if you are still even a little sceptical about it, you must give that thought a pause and slither into the story of these brave ladies who calls themselves Fantastic Grandmothers. The group of women aged between 60 and 75, put on their dive masks and fins to assist researchers who have been monitoring sea snakes in Baie des citrons, for the past 15 years. A popular swimming area off the capital sea of Noumea, New Caledonia, it turns out that the deep blue sea has a large population of venomous snakes slithering underwater. The camera attached to their swimsuits captures the beautiful sea serpents swimming along with the women, a video of which has been shared online. A New Bandy-bandy Species of Venomous Snake Accidentally Discovered in Australia. 
Marine biologist Claire Goiran from the University of New Caledonia along with the colleague Rick Shine reported that they knew almost five-foot-long venomous greater snake called the olive-headed sea snake existed in those waters. However, there were only six sightings of the species over the past 15 years. This is when the snorkelling grannies come in. They approached the scientists and proposed the senior citizen project. For the past couple of years, the grandmothers have headed underwater with cameras to capture the snakes, some including the venomous ones. Pictures taken by them identified above 140 greater sea snakes in the bay over 25 months, as noted by The Guardian. New Mexico Man Spots Glossy Snake Enjoying the Sun in Borderland Driveway. 
Watch the Video Here: 
The happy and brave grandmas have added more insights to the study, more reliable sample to work with. The shots further revealed crucial new information about the snakes' breeding patterns, like when they mate, get pregnant and give birth. The report also noted that the volunteers do not try to touch or capture snakes, just take photos. The study state that greater sea snakes have never shown any sort of exhibition of defensive responses when divers get up close. In any case, such a situation arises, there is a "good hospital" in Noumea which have all the emergencies to take care of such cases. Way to go Fantastic Grandmothers!