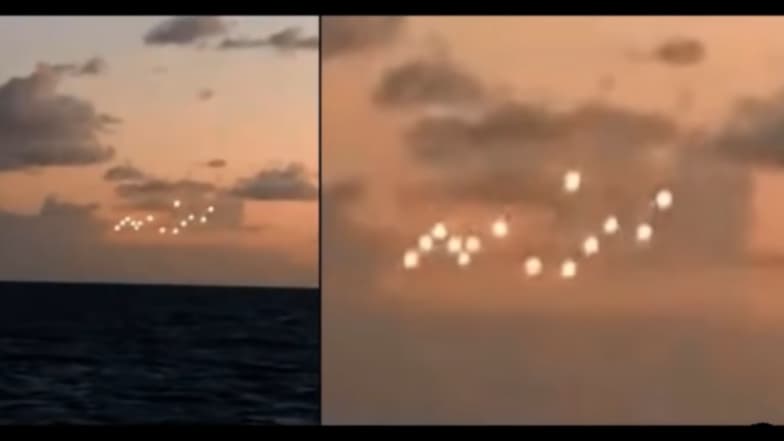 The hunt for clues about alien or extraterrestrial life in any form is always on. While scientists are at work with research, there are numerous conspiracy theories as well. A new UFO sighting at the Outer Banks in North Carolina is giving rise to talks of alien life again. A video has been going viral online, which shows not one but a series of unidentified flying objects. A group of lights suddenly appear in the sky and the questions about their origins -- whether they are aliens or a type of military operation -- are rising up. UFO Spotted During Thunderstorm? Australian Police Tweets Saying 'We Are Not Alone', Here's The Truth.
The video was posted online about a week ago and it clearly shows a mysterious fleet of lights appearing in the evening sky. Almost 14 dots of lights are seen sparking. Someone in the video can be heard saying, "We're in the middle of the ocean, on a ferry, nothing around. Look. Nothing around. No land, no nothing." He goes on to ask what that is. The video has been shared numerous times online and freaking some people out. Aliens To Contact in the Next 15 Years? Watch the Video of 7 Recent UFO Sightings.
Watch the Video of UFO Lights Seen in North Carolina:
One of the comments mentioned that it was a Marine operation. Derrick Chennault, a former Marine based at the 2nd Marine Air Wing. "We used to regularly drop flares out of the back of our plane in the evenings for military exercises in that area. They are one million candle power each so they were pretty bright and can be seen from far away and floated down slow as they hung from a parachute," he mentioned. Marine Corps Air Station was also nearby so such testing does happen once in a while. But there is no statement from the marine forces too so there is no clarity what exactly it was.