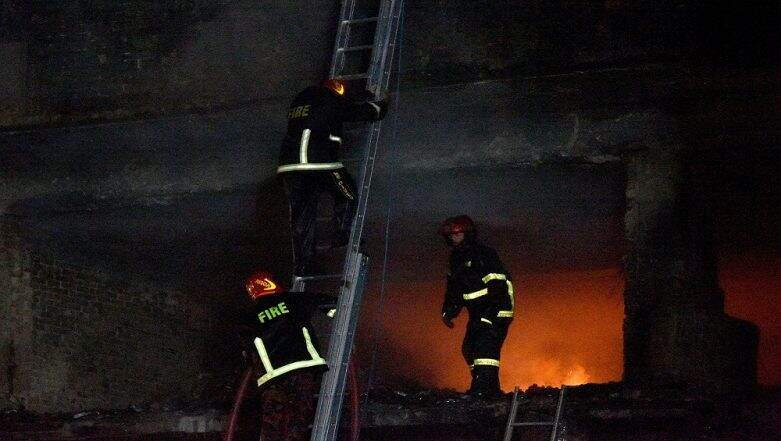 Dhaka, February 21: A fatal fire broke out in the Bangladesh capital last night, which has claimed at least 69 lives so far. The death toll is feared to rise, claim the firefighting personnel, as the blaze is "yet to be doused off". Bangladesh's fire service chief Ali Ahmed said more bodies may be recovered after the operation concludes.
The unprecedented fire broke out at 10:40pm (local time) last night, in Chawkbazar locality of Dhaka. The blaze, as per reports, first erupted due to a cylinder blast in one of the buildings where "highly inflammable" chemicals were stored. It subsequently spread to four neighbouring buildings in the apartment, which were also being used as chemical warehouses. Fire Safety Tips: How do you Escape From a Fire? Fire Safety Guidelines & Use of Fire Extinguishers.
A rescue team official, while speaking to the local media, said the firefighting operation was hampered due to congestion in Chawkbazar, located in old part of the city. Since the area is mapped by narrow lanes, with a high population residing there, a traffic jam broke out following the blaze. This led to a delay for the fire tenders to reach the spot.
Efforts to douse off the flames were initiated around 11pm, and were yet to be concluded by the time this report was published. An official involved in the firefighting operation said the flames have been "confined", but not douse off.
"It will take time. This is not like any other fire," he said, adding the inferno became so devastating due to the highly combustible chemicals stored there," he was quoted as saying by PTI.
The last such fire incident, with casualties of this magnitude was reported in Dhaka in 2010 when a building storing chemicals went up in flames. A total of 120 people were killed in the tragic blaze.