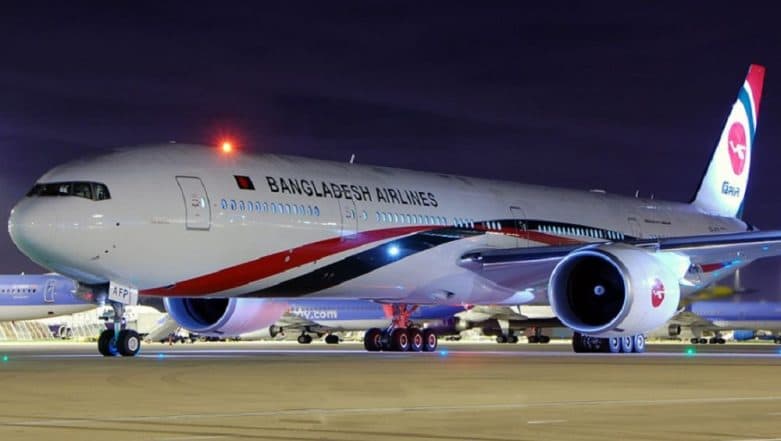 Chittagong, February 24: Bangladesh commandos on Sunday stormed a passenger jet at Chittagong airport and shot dead an armed man who allegedly tried to hijack the Dubai-bound flight. The man appeared to be in his 20s and was speaking Bangla language. The gunman attempted to take control of the cockpit. The Biman Bangladesh Airlines plane en route to Dubai from Dhaka via Chittagong made an emergency landing following a hijacking attempt.
He took pilots at gunpoint before the flight BG 147 made an emergency landing at the Shah Amanat International Airport in Chittagong. After the landing, police and Rapid Action Battalion of Bangladesh had surrounded the plane. All the 145 passengers were immediately evacuated from the plane. According to reports, Bangladeshi MP Mayeen Uddin Khan Badal was also inside the flight.
Video of the security personnel surrounding the plane at Chittagong Airport:
A passenger armed with a gun has tried to storm the cockpit in a failed bid to hijack Biman flight #BG147 flying from Dhaka in Bangladesh to Dubai via Chittagong. The gunman and two crew members are reportedly still on the aircraft. https://t.co/SjLquoHIOK pic.twitter.com/kYnZlZvk34

— Breaking Aviation News (@breakingavnews) February 24, 2019
Earlier, Air Vice Marshal Nayeem Hasan, chairman of the Civil Aviation Authority of Bangladesh, said the man had a pistol and had explosives around his body.
Army spokesman, Abdullah Ibne Zaid, said the suspected hijacker claimed to have a gun and a bomb strapped to his chest but also appeared unstable. "The army's special forces conducted the operation and the armed man has been neutralised. The situation at [Chittagong's] Shah Amanat International Airport is very much under control of the Bangladesh army," he said. However, it was not immediately clear if the pistol or the explosives were real.
Meanwhile, on Saturday, all airports across India were put on a high alert after Air India's Mumbai control centre received a phone call threatening to hijack its plane. Bureau of Civil Aviation Security (BCAS) ordered all airlines and Central Industrial Security Force (CISF) to follow specific enhanced measures to ensure security to avoid any untoward incident.