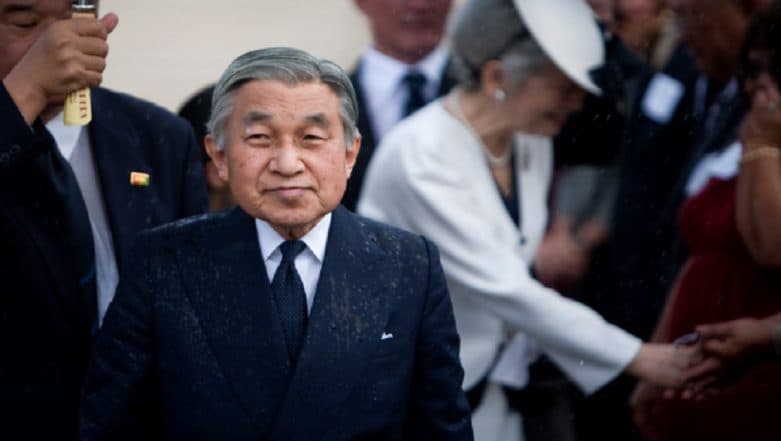 Japan's reigning monarch Emperor Akihito bid adieu to his subjects in his birthday address. Emperor Akihito addressed the Japanese people before he abdicates his throne in April 2019.
Emperor Akihito will be succeeded by his son Prince Naruhito in April. The 85 year-old monarch is the first Japanese emperor to give up the Chrysanthemum throne in the last 200 years.
While giving his birthday address, Akihito was accompanied by Empress Michiko. He thanked her for her constant support during his time on the throne. More than 80,000 Japanese turned up to hear the Japanese emperor's final birthday address.
The Emperor in recent years has suffered deteriorating health including a heart attack and undergoing surgery for prostate cancer which has contributed to his decision to hand over the crown to his son.
Akihito's reign saw Japan damaged by the WWII as the U.S. dropped two atom bombs on Hiroshima and Nagasaki. His time on the throne also saw Japan renounce pre-emptive aggression which translated into Japan not going to war in the last sixty years. Hence, Akihito's time on the throne is known as the "Heisei" era, which means "achieving peace" in Japanese.
Akihito has traveled extensively in the last forty years, especially to Japan's neighbouring countries – China and South Korea to make amends for Japan's military actions during WWII.
Ahead of his birthday the Japanese Emperor told reporters: "It is important not to forget that countless lives were lost in World War Two... and to pass on this history accurately to those born after the war."
The progressive monarch whose legacy is his work to prevent war also said that he hoped his country's new legislation of allowing skilled immigrants into the country would be welcomed. Japan has an ageing population and the economy is facing critical labour shortages.
Emperor Akihito's position is purely ceremonial however the Japanese hold their royal family in extremely high regard.