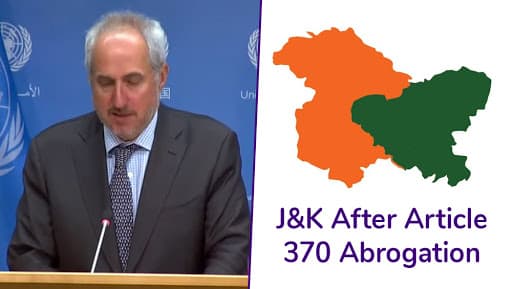 Geneva/New Delhi, September 11: A day after India rejected Pakistan's claims of alleged human rights violation in Jammu and Kashmir during the 42nd session of the United Nations Human Rights Council (UNHRC), UN Secretary-General António Guterres' spokesperson Stéphane Dujarric stated that UN's position on mediation has always remained the same and the UN chief had met leaders from both the countries. India Rejects Pakistan's Claims of Human Rights Violation in Jammu And Kashmir at UNHRC Meeting, Calls Islamabad 'Epicentre of Terrorism'.
Addressing a press conference, Dujarric said, as quoted by news agency ANI, "Our (UN) position on mediation has always remained the same. Secretary‑General has had contacts both with Governments of Pakistan and Govt of India. He saw PM of India at the sidelines of the G7. He had spoken to Pakistan Foreign Minister."
Earlier, Ministry of External Affairs' (MEA) Secretary (East) Vijay Thakur Singh termed Islamabad's allegations as false in the UNHRC on Tuesday. He had said, "A delegation has given a running commentary with offensive rhetoric of false allegations & concocted charges against my country." Even India's Permanent Representative Syed Akbaruddin made a veiled attack on Pakistan for providing safe havens to terrorists on its soil. Syed Akbaruddin, India's UN Envoy, Makes Veiled Attack on Pakistan Over Providing Safe Havens to Terrorists.
On the contrary, Gilgit-Baltistan activist -- Senge H Sering -- at the 42nd session of UNHRC in Geneva claimed that Gilgit-Baltistan is part of India. He said, "Gilgit-Baltistan is part of India. Members of the United Nations need to realise that Pakistan has become a big stumble block for the last 70 years."
Supporting the abrogation of Article 370 from Jammu and Kashmir, he said, "Article 370 had become a tool in hands of few in J&K which gave them veto power over other ethnic and religious groups. People who were benefitting from it, became allies of the Pakistani military and were promoting Pakistan's strategic interests in J&K."