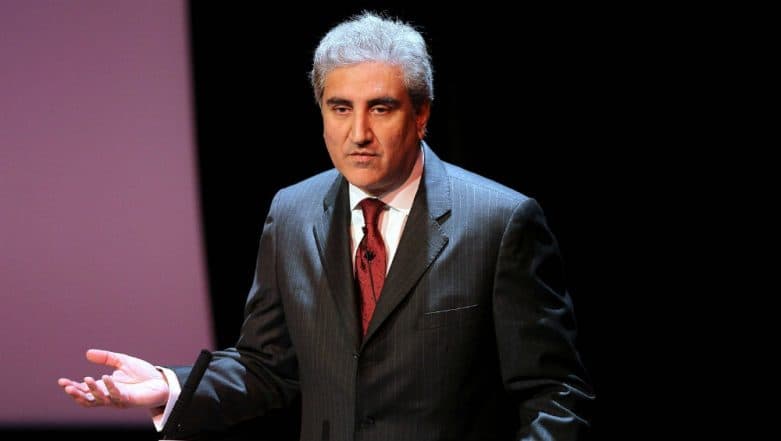 New Delhi/Islamabad, February 28: Pakistan's Foreign Minister Shah Mahmood Qureshi on Thursday said his country will consider returning the Indian pilot if the move eases tensions between the two countries. Tensions have reached a peak between India and Pakistan after the latter attempted to target military installations on the Indian side and arrested an Indian Air Force's pilot who foiled their bid to violate the Indian airspace.
"If there is de-escalation with the return of this [Indian] pilot, Pakistan is willing to consider this. We are ready for all positive engagement," Qureshi was quoted as saying by Pakistan-based Geo News. He also said that Pakistan Prime Minister Imran Khan was ready for a telephonic conversation with his Indian counterpart Narendra Modi. "Prime Minister Imran Khan is ready to talk to Narendra Modi on the telephone and ready to extend an invitation of peace. Is Modi ready?" he said. Donald Trump Says 'Reasonably Attractive News From Pakistan and India, Hopefully End in Sight'.
On being asked if he is open to meeting India's External Affairs Minister Sushma Swaraj on sidelines of the Organisation of Islamic Cooperation (OIC) meet, Pakistan Foreign Minister said: "I will not hesitate to meet but OIC is not the forum for talks with Swaraj." India on Wednesday said Pakistan has committed an "unprovoked act of aggression" by targeting Indian military posts with its air force and sought immediate and safe return of an IAF pilot in its custody. First Photo of Wreckage of Pakistani F-16 Jet Shot Down by India's MiG-21 Is Out.
On Wednesday, India's Ministry of External Affairs said that Pakistan Air Force targeted military installations in India in response to Indian counter-terrorism operations but their attempts were foiled successfully, though one Indian pilot is "missing in action". The MEA said that according to Pakistan the missing IAF pilot was in their custody. "We are ascertaining that," the MEA spokesman said.
On Tuesday, Indian Air Force bombed a Jaish-e-Mohammad (JeM) training camp in Balakot in Pakistan, 12 days after a suicide bomber killed more than 40 Central Reserve Police Force troopers. Pakistan-based JeM claimed the responsibility of the attack.