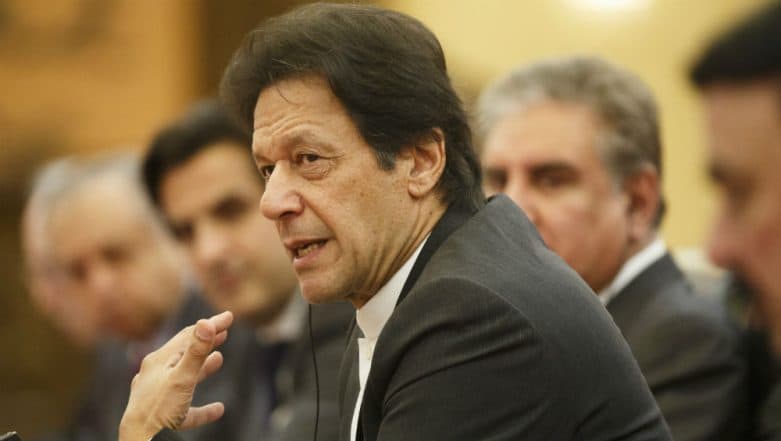 Islamabad, May 13: Nearly ten months after the hectic round of negotiations with the International Monetary Fund (IMF), Pakistan has finally sealed a $6 billion bailout package, which gives a fresh breather to its tethering economy. In the process, the Imran Khan regime has ended up dumping the "welfare state" vision, which the cricketer-turned-politician had promised ahead of the landslide poll victory last year.
Far from allowing Islamabad to invest in public works and welfare schemes, the terms and conditions of the bailout package force Pakistan to restrict its development expenditure to 0.6 per cent in the upcoming budget. Pakistan Finally Bags Preliminary Deal For USD 6 Billion IMF Bailout
The terms for bailout also seek Pakistan to implement severe austerity measures, cut down on existing welfare schemes and raise taxes to increase the government revenue.
"Pakistan is facing a challenging economic environment, with lackluster growth, elevated inflation, high indebtedness, and a weak external position," said the statement issued by Ernesto Ramirez Rigo, the head of the IMF's mission to Pakistan.
The finalised IMF bailout package will also pave way for a $2-3 billion aid from the Asian Development Bank and World Bank. The fresh infusion of capital will revive the economy and position Pakistan to compete among its temporaries, said Abdul Hafeez Shaikh, the Adviser to Prime Minister Imran Khan on Revenue, Finance and Economic Affairs.
The $6 billion bailout would be disbursed to Pakistan over a period of 39 months, subject to the fulfillment of the terms and treaties underlined in the pact between IMF and Islamabad.