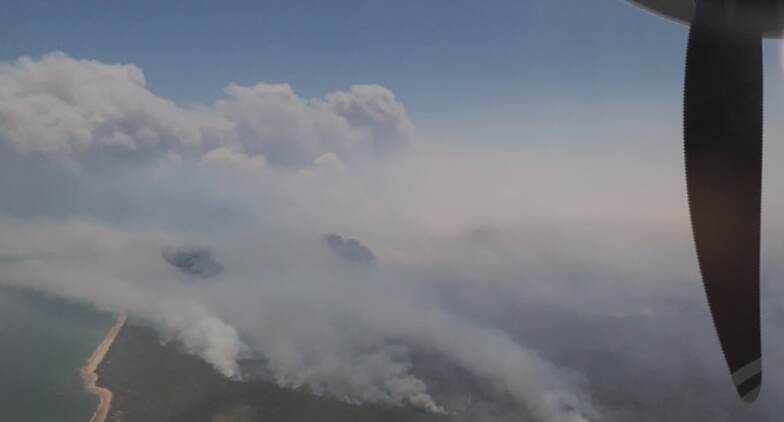 Queensland, November 27: A monster bushfire that has razed of hectares of bushes and farmland in central Queensland is becoming more powerful as a heatwave sweeps the state. Queensland Fire and Emergency Services (QFES) has issued a warning to the residents of Deepwater, Oyster Creek, Baffle Creek and Rules Beach to immediately leave as it would be too dangerous to drive. California Wildfires Turn Deadly As 5 Dead and More Than 150,000 Evacuated.
A separate bushfire in Finch Hatton, west of Mackay, prompted QFES to urge residents to leave immediately due to a worsening bushfire. An evacuation centre has been set up at Miriam Vale Community Centre to help people in distress. With more than 65 wildfires burning across the state, Queensland is facing on the worst natural calamities in recent times. Southern California Fires Force Evacuation of 75,000 Homes.
This is what the Deepwater community & our crews are currently facing in central Queensland. If you have been told to leave your home DO NOT RETURN, conditions are too dangerous. If you're leaving your home ensure you take essential items such as important documents & medication. pic.twitter.com/XbZEdTIgyc

— Qld Fire & Emergency (@QldFES) November 26, 2018
More than 40 Queensland firefighters and eight Boeing 737 waterbombing were engaged to control the fire. The Queensland Fire and Emergency Services released a statement at 7.20am on Monday that "The progress of the fire has slowed overnight but is expected to intensify throughout the day and will travel in a south-west direction."
Earlier in a similar incident from November, the devasting wildfires in California killed around 87 people with more than 1000 people missing, reported California Department of Forestry and Fire Protection. The two monstrous blazes have scorched a total area of nearly 400 square miles.
The wildfire or wildland fire is on an increase due to global warming. Due to global warming, the average temperature of the earth's climate system is on a arise resulting in an increasing heatwave. It does not only affects temperature but also soil moisture, which is turning the forest into kindling wildfire season. The other major natural causes of wildfire ignitions are lightning and volcanic eruptions.