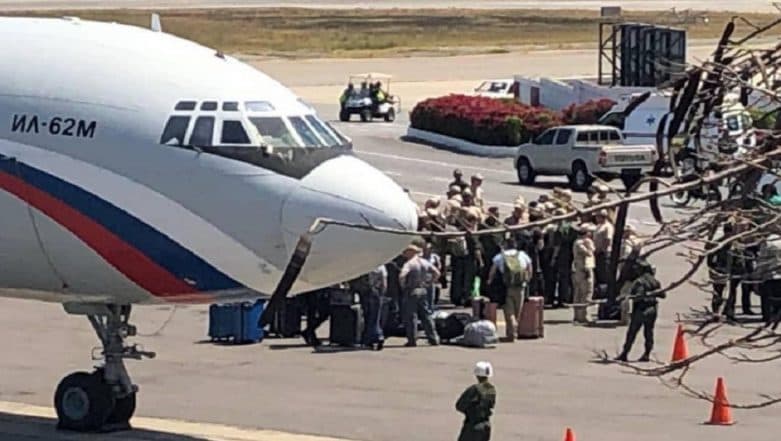 Toronto, March 29: Russia has officially confirmed that members of its military have been sent to Venezuela, in response to a request made by the South American country's embattled President Nicolas Maduro.
This was confirmed on Thursday in Moscow, as Russia's Foreign Ministry spokeswoman Maria Zakharova said "Russian specialists" were on Venezuelan soil. She said their deployment was "in accordance with the provisions of the bilateral intergovernmental agreement on military-technical cooperation" between Moscow and Caracas.
She also did not give any timeline for their presence, saying the personnel would remain in Venezuela "for as long as needed, and as long as the government of Venezuela needs them." According to a report in The Guardian, the deployment is a small one numbering about 100 Russian soldiers.
The confirmation and in fact the reiteration that Russian forces are there in Venezuela for the duration came a day after US President Donald Trump urged Moscow to "get out" of Venezuela. On being asked about his possible strategy to deal with Russia's presence in Venezuela, Trump said, "We'll see. We'll see. All options are open... All options are open."
Soon after Maria Zakharov's statement, Kremlin spokesperson Dmitry Peskov during a conference call with reporters said that Russia was within its rights to send members of its military to Venezuela. "Russia has contractual obligations based on previously signed documents, contracts to supply special equipment. To implement these contracts, Russia is taking the actions that its taking," Peskov said.
The Kremlin spokesperson targeted Trump's stand against Nicolas Maduro to say that Russia's relations with Venezuela should not worry third party countries. "We do not interfere in the domestic affairs of Venezuela," he added. "We count on these third countries to follow our example and allow Venezuelans to decide their own fate."
Trump has repeatedly called for Nicolas Maduro to step down as president, along with implementing a host of measures against him. The Trump Administration has recognised Venezuela's opposition leader Juan Guaido as interim president as well as implemented sanctions against the Venezuelan government and its various entities, in a bid to choke off the regime's finances. Russia has criticised the Trump Administration's policies targeting Maduro and sending its troops into Venezuela is a signal to the U.S. that Moscow stands with Maduro.