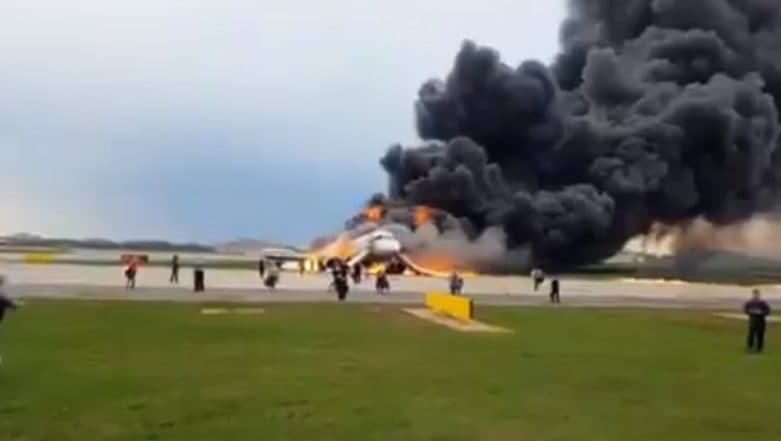 Moscow, May 6: At least 41 people have been killed after a massive fire broke out on a Russian passenger plane on Sunday. According to reports, the plane made an emergency crash-landing at Moscow's Sheremetyevo airport and burst into flames when it touched down. Reports inform that the blaze erupted in a huge ball of fire and black smoke at Moscow's busiest airport on Sunday. Reports further inform that the crew issued a distress signal when "malfunctions" occurred shortly after departure. After making an emergency landing at the airport, the plane's engines caught fire on the runway, Aeroflot said in a statement. Boeing 737 With 136 Passengers On Board Falls Into River in Jacksonville, Florida After It Skids Runway.
Aeroflot published a list of survivors (in Russian) who have been identified so far. A video footage of the incident shows that the Russian-made Sukhoi Superjet, carrying 78 people was in flames across the runway with thick, black smoke pouring out from behind. Reports inform that the incident took place shortly after the take off from Moscow. The Russian-made Superjet-100 then requested an emergency landing due to fire on board. Sukhoi Passenger Plane on Fire in Russia Makes Emergency Landing in Moscow Due to Blaze on Board.
A report by AFP quoted the Investigative Committee saying that there were 78 people including crew members on board the plane. Two children and a flight attendant were among the dead, Russian media reported. Reports inform that the plane was headed to Russia's far northwest city of Murmansk.
The passenger plane returned to the Sheremetyevo airport after 27 minutes in the air, reported Russia Today. Kremlin spokesperson Dmitry Peskov told TASS saying that Russian President Vladimir Putin has been informed of the fiery emergency landing of the Aeroflot jet in Moscow and has ordered a "thorough investigation".