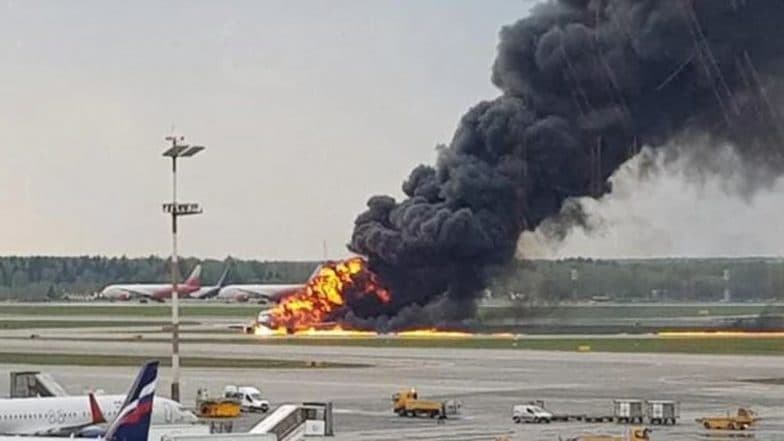 Moscow, May 5: A passenger plane on fire made an emergency at Russia's Moscow airport on Sunday, reported Russian media. A video of the incident showed a fireball tearing down the runway leaving a thick plume of black smoke. The plane was a Russian Aeroflot Sukhoi Superjet, which made an emergency landing in Sheremetyevo airport due to fire on board.
Dozens of passengers were evacuated from the aircraft as pilots managed to keep it on the runway, Russia's Interfax news agency reported. Passengers can be seen using emergency exit slides to escape the plane. Air India Delhi-San Francisco Flight Catches Fire at IGI Airport During Repair Work, Watch Video.
Посадка пылающего Sukhoi Superjet 100 в Шереметьево. Пилоты - стальные люди pic.twitter.com/ETlzOHbUKw

— Дмитрий Смирнов (@dimsmirnov175) May 5, 2019
"It attempted an emergency landing but did not succeed the first time, and on the second time the landing gear hit (the ground), then the nose did, and it caught fire," a source told Interfax. According to some reports, there were 78 people on the board and its not clear how many were wounded in the incident.
According to some reports, the plane had been headed to Murmansk, the far northwest city in Russia. Initial reports suggest that an electrical fault might have caused the blaze while the plane was in the sky.