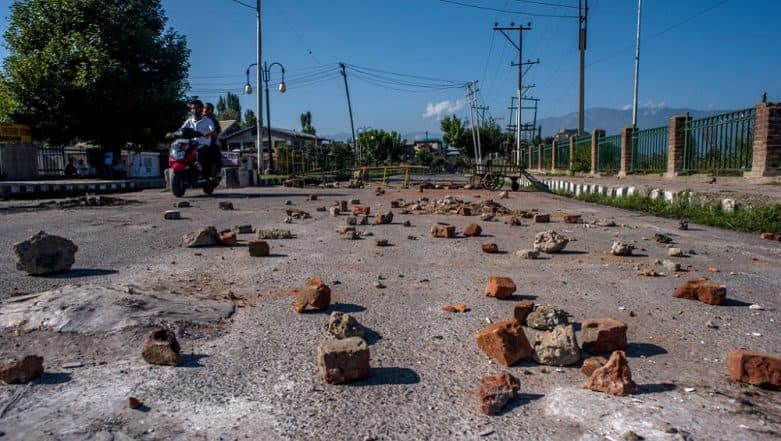 Washington, August 29: Days after contending that Jammu & Kashmir is India's internal matter, the US State Department has once again voiced its concern over the prolonged restrictions imposed in the Valley. A spokesperson of the Department told reporters on Thursday that the United States is "very concerned" over the detentions of political leaders and activists in the region. MEA Trashes Pakistan's Letter to UN Alleging Rights' Violation in Kashmir, Says 'Not Even Single Bullet Fired in Valley'
"We urge respect for human rights, compliance with legal procedures, and an inclusive dialogue with those affected," the spokesperson said. Notably, communication lines remained snapped in most parts of the Valley. The administration has indicated the landline connections would soon be resumed.
Mobile services and internet, however, could remained blocked for the days to come as the J&K administration is wary of militants and anti-social elements using the same to mobilise protests and coordinate attacks against the security personnel.
"We welcome Prime Minister Modi's statement that Jammu and Kashmir will soon return to a normal political status... We continue to support direct dialogue between India and Pakistan on Kashmir and other issues of concern," the spokesperson added.
The official also sounded an indirect warning to Islamabad, stating that peace and stability along the "Line of Control" -- the de-facto border between -- is essential to find a solution to the crisis. He further noted cross-border terrorism must also be curtailed to prevent the deterioration of the situation in the Valley.
Earlier this week, United States President Donald Trump discussed the Kashmir issue with Prime Minister Modi during their meeting at sidelines of the 67 Summit in France's Biarritz. In the joint press conference, Trump said that he "believes PM Modi that the situation in Kashmir is under control".