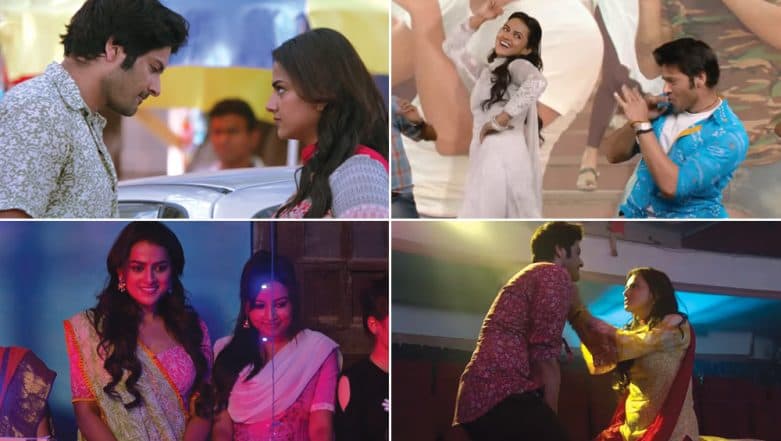 Milan Talkies is releasing this Friday and we can't wait for it to hit the screens. It has got all the elements of fun-filled and power-packed action film, which makes it a must watch. It has everything -- a smalltown desi romance, funny one-liners and a never-before-seen quirky avatar of veteran director Tigmanshu Dhulia. Here are the five major reasons why you should go and watch Milan Talkies.
The Rustic Charm Of India
The film is set in a small rural town of India in UP. The desi love story will remind you of old school romances where lovers wrote notes to each other and sent them out without letting the family know. Veteran director Tigmanshu Dhulia will be seen in a quirky avatar. The single screen theatres will leave you nostalgic about your childhood memories and take you back to the '90s. Milan Talkies Quick Movie Review: Ali Fazal and Shraddha Srinath's Romantic Saga is Breezy Affair.
Love For Retro Movies
If you love the retro feel in a film then Milan Talkies is the film for you. The colourful locations, dialogues, outfits and the set up of the film will take you back to the days of yore.
Hilarious One Liners
Who doesn't love side-splitting one-liners? Milan Talkies is full of such one-liners which leave you gasping for air. If you don't believe us, check out some of the dialogues from the trailer of the film in these links.
Watch the Trailer of Milan Talkies:
Ali Fazal Shradhha Srinath Fresh On Screen Pair
Milan Talkies presents the fresh on-screen pairing of Ali Fazal and Shraddha Srinath in the film. They fit perfectly in this desi love saga. Shraddha Srinath who is a popular South Indian actress is making her Bollywood debut with this film does complete justice to her character Maithili. This fresh Jodi looks promising and perfect for the film. Milan Talkies Movie Review: Only Sparks, No Fire in Tigmanshu Dhulia's Romantic Drama With Ali Fazal and Shraddha Srinath.
Music Of The Film
The music of the film fits perfectly for every occasion whether its festive celebrations, hanging out with friends or the feelings of first love. "Mind na kariyo Holi hai" in Mika Singh's and Shreya Ghoshal's voice will set the vibes perfectly for Holi festivities. Whereas "Bakaiti" is a song which fits perfectly for every guy gang in college and schools. The song "Jobless" will send you on a trip down to the memory lane, whereas the other love song "Shart" in the melodious voice of Sonu Nigam from the film is a treat for every person out there in love.
A romantic love saga, Milan Talkies has also been written and directed by Tigmanshu Dhulia and also stars Ashutosh Rana, Sanjay Mishra, Reecha Sinha, and Sikandar Kher. Produced by Filmy Keeda Production in association with Om Prakash Bhatt, the film will hit cinemas on March 15.