Sreesanth has been such a crybaby inside in Bigg Boss 12. The man shows many colours and stages commotion true to his on-field image. He also indulges in unnecessary fights and starts crying at the slightest provocation. But fans love him. They think Sreesanth is known for wearing his emotions on his sleeves. So when Shilpa Shetty's husband Raj Kundra who is already involved in betting, provenly so, ridicules Sreesanth, netizens decide to slam him for his unsavoury remark.
And now Sreesnath's wife Bhuvneshwari decides to expose Raj Kundra for no clearance of dues. Yes, she also claims that while Sreesanth has been given a clean chit in the allegations of max fixing scandal, Kundra has been proven guilty for betting.  A fan shared a screenshot of Kundra's comment on Twitter to which she replied, "This man (Raj Kundra) has still has not cleared Sree's dues... Epic is his guts to comment where he's been found guilty of betting by court. Whereas Sreesanth has been discharged and proven innocent of all the charges by the court."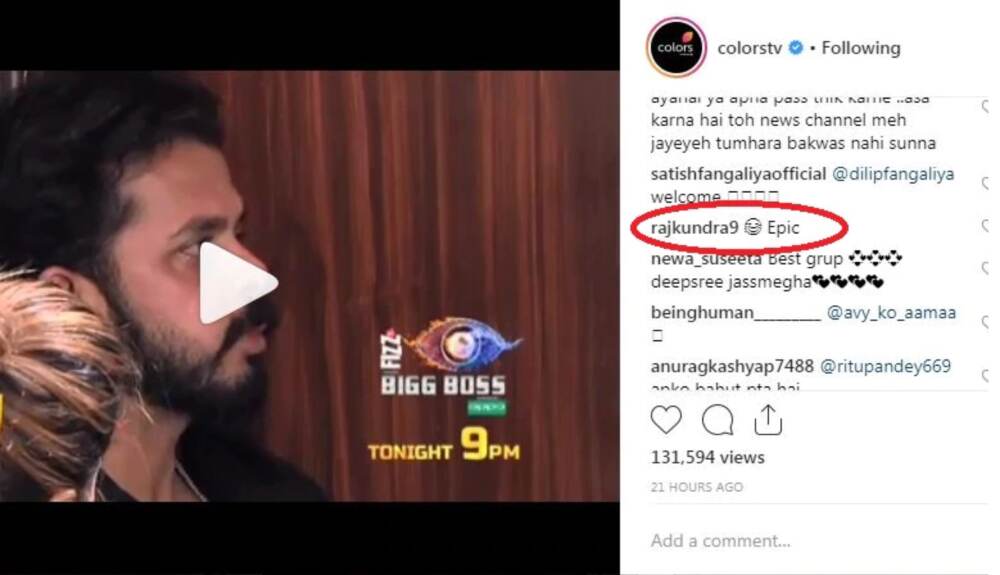 This drama started when the slap-gate controversy or the can of worm, so to speak, Sreesanth discussed his match-fixing allegations with his Bigg Boss 12 inmates. Dipika, Megha and Jasleen were present when Sreesanth narrated the murky saga to them. Sreesanth even cried and stated that he is not even allowed to enter the ground where his son plays as he carries this false stigma with him. The video was posted online to which Raj Kundra commented calling the video Epic!
This remark of Raj Kundra has not gone down too well with netizens. The former co-owner of IPL team Rajasthan Royals was slammed by Sreesanth's fan claiming that Kundra has no right to make such comments when he himself is embroiled in a controversy and has been proven guilty of betting!