Kangana Ranaut, as promised, released the poster of her next film Dhaakad on July 5, 2019 and she did not disappoint her loyal fans and followers. While other details of the flick are yet to be revealed, the film is all about "one of a kind female-led action film". In the poster, Kangana is seen holding two heavy duty machine guns, while the background is ablaze with destruction (something that we feel Kangana's character is responsible for). Kangana Ranaut's Next Film Is Titled Dhaakad And Here's The Impressive First Look Poster
And while Twitter is all praises for Kangana and her gutsy move, a section of netizens did point out how this poster of Dhaakad looked very similar to the 2017 Hollywood flick Tomb Raider, starring actress Alicia Vikander.
Take a look below: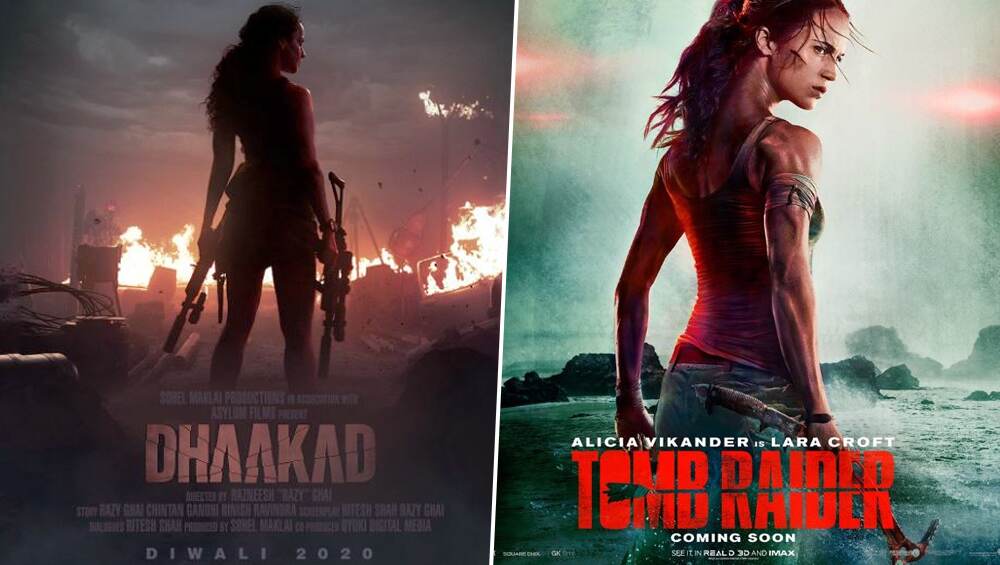 Well, this isn't the first time that Bollywood has (intentionally or unintentionally) copied Hollywood style posters. Quite a few of India's biggest movie Baahubali's posters have been inspired by Hollywood movies like XXX: Return of Xander Cage and Ong Bak 2, Ra. One took inspiration from Batman Begins, two of Ek Villain's posters look similar to Face Off and Step Up 3D, Murder 2's poster was a legit copy of Anti Christ and Murder 3 of Jennifer's Body. Even one of B-Town's most loved films Zindagi Naa Milegi Dobara's poster reminded us of Lords of Dogtown. Judgementall Hai Kya: Rapper Badshah's Wakhra Swag to Get a Revamped Version, Courtesy Rajkummar Rao-Kangana Ranaut!
Well, while we shall wait patiently for Queen Bee Kangana Ranaut to let us know her thoughts on the inspiration for Dhaakad's poster, the lady described her flick as a benchmark film for her career and also a turning point for Indian Cinema. She also said, "If it is received well, there will be no looking back for women in Indian Cinema," in a statement.