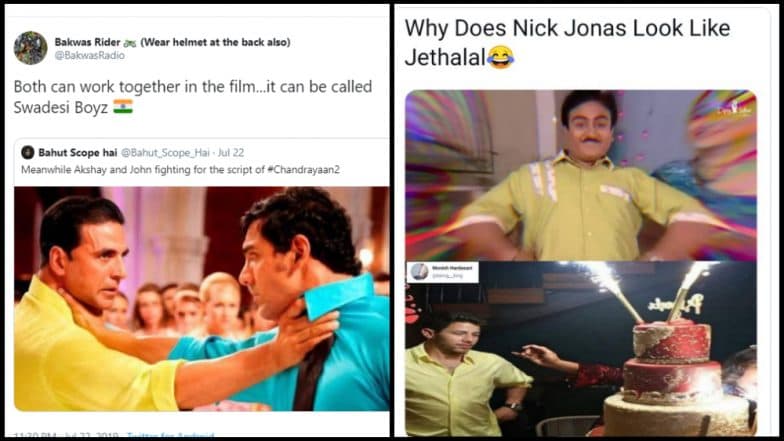 We are back with another round of best jokes on Bollywood. Guys, the thing is I spend an awful amount of time on Twitter at work, and this is one of the things to justify it so...sshhh. For the month of July, Rahul Bose and Kabir Singh provided the best laughs. Shanti Priya ki laash from Om Shanti Om took one for the team once again. And of course, Akshay Kumar and his brand of cinema continued to contribute to providing wholesome laughs. Also, let us take a moment to thank the Face App for all the comedy that ensued due to it. From Om Shanti Om to DDLJ, 12 Hilarious Jokes That Twitterati Cracked on Bollywood in May 2019.
So, without further ado, let us begin the best jokes that Twitter cracked. Feel free to DM us if you need explaining for a joke. Also, feel free to RT and favourite these tweets and spread some love. And do not forget to follow @latestly on Twitter. From Akshay Kumar to Kalki Koechlin, 13 Best Jokes at Bollywood's Expense That Twitterati Cracked in March - Read Tweets.
Thanking Rahul Bose for the fodder
Actors who had to pay a big price just for eating two bananas. pic.twitter.com/KhDJSc0mx4

— pandurang escobar (@Bhavessshh) July 25, 2019
Where is the lie?
#faceappchallenge pic.twitter.com/gkRXpBKVq2

— Manish ❁ (@Man_isssh) July 18, 2019
How's the josh?
Vicky Kaushal when he collects his lifetime achievement award: https://t.co/Dyv9l7QDLd

— saarz 🥨 (@SaaraZamana) July 28, 2019
Ruining Phir Hera Pheri for you forever
Xvideos me African ko dekhne k baad 😭🤷🏼‍♂️😂 pic.twitter.com/jd14PlE0hU

— Delhi se Hoon BC (@delhichatter) July 27, 2019
Kareena, making a statement with style
Roles for women Roles for men

in Bollywood in Bollywood pic.twitter.com/YbzJAlxR7i

— Shreemi Verma (@shreemiverma) July 26, 2019
While, I can't even get 5 likes on my pictures I got clicked by my DSLR friends
— fruts (@Oinkoo) July 26, 2019
Let it slide
Phir Hera Pheri is not a movie it's a slideshow of memes.

— Aarpee (@TweetsofRP) July 18, 2019
Ummm...yea...true
Ajay Devgn of Hum Dil De Chuke Sanam seemed like someone who would write really long and technical answers on Quora.

— Avinash Iyer (@IyerAvin) July 26, 2019
When Rahul Bose made Twitter go bananas
rahul bose can't catch a break today can he https://t.co/rY1iXYk1fr

— spntify (@sapunintended) July 25, 2019
Rahul Bose was the real hero of July
Rahul Bose first thought the bill was a signing amount for some movie.

— InGenious (@Bees_Kut) July 25, 2019
Why did this make me laugh so much?
Antoine Griezmann in Bollywood pic.twitter.com/Qqx1TCbo0U

— Manas Singh (@menacesingh) July 25, 2019
LMAO
— Monish Hardasani (@Being__bing) July 21, 2019
*Continues to LMAO*
Fact that Akshay kumar hasn't made a movie on Demonetisation is the biggest example of it's failure.

— The Monk who sold his Fuckeeri. (@puntinational) July 22, 2019
Go home everyone, Twitter has been won
#NosePinTwitter#SareeTwitter#BindiTwitter#KajalTwitter#HumanBodyTwitter you name it pic.twitter.com/lH5AQv6YOB

— Bakwas Rider 🏍️ (Wear helmet at the back also) (@BakwasRadio) March 6, 2018
I am here for it
Both can work together in the film...it can be called Swadesi Boyz 🇮🇳 https://t.co/vk7D9dBIQW

— Bakwas Rider 🏍️ (Wear helmet at the back also) (@BakwasRadio) July 22, 2019
I am not here for it
Can't wait for Hima Das biopic with Akshay Kumar in an as Hima Das

— Ahmed🥤 (@arkhmet) July 21, 2019
Who remembers this?
Pro Kabaddi is for amateurs. Real Kabaddi fans remember this match pic.twitter.com/JLXrnxvEO3

— Joy (@Joydas) July 20, 2019
Marvel's What If?
guys what if jaadoo was a smurf's ancestor??? like...an ancient smurf or something

— a g l e t (@pettyparthy) July 20, 2019
Shining in the sadingson 
"Tera Hone Laga Hoon" is a song about entering teens no one @ me

— Dociam 🌈 (@ADoctorIAm) July 20, 2019
TAKE MY MONEY (and make this movie)
Why does look like the poster for Kaante https://t.co/YohecDf1yP

— Alankrutha (@alankruthahaha) July 19, 2019
House Khaitan, House Ayan, House Varman, House Karan
When Star kids turn 11 do they get an acceptance letter from Dharma Productions?

— Kajol Srinivasan (@LOLrakshak) July 17, 2019
Priyanka and Naseer did look good together in 7 Khoon Maaf
Woah so Nick Jonas will turn into Naseeruddin Shah? https://t.co/YFu8drWiNR

— tarbooza kharbooz (@nakaamrade) July 17, 2019
TRUTH
Bollywood celebs are all "I'm ashamed, embarrassed" after watching that video of Indians getting caught after stealing items from the hotel..

We feel the same when you steal content from foreign movies and music....

— Ekita (@LostByWaves) July 28, 2019
Someone make a thread of animals living about their day...as Bollywood movies
This owl looks like it's gonna give you a lecture about Parampara Pratishtha Anushasan https://t.co/8umdmiJ5N4

— Robin 💭 (@robin_goodx) July 28, 2019
You mean she looks Stranger? Ok, sorry
shanti priya looks different here https://t.co/yGhFWSdbdo

— ✖️ (@kxtwts) July 16, 2019
Who remembers that gem of a movie?
Shahid from Badmaash Company did you dirty https://t.co/GNB2XRtIIg

— Ashutosh (@yinfuckinyang) July 7, 2019
Kabir Singh has redefined love
Broke up with my girlfriend after I caught her slapping some other guy.

— manikmahna (@manikmahna) July 8, 2019
Did we miss your joke? You can tag @latestly and we'd love to feature you on the list. Also, same place, same time, next month? See you again.