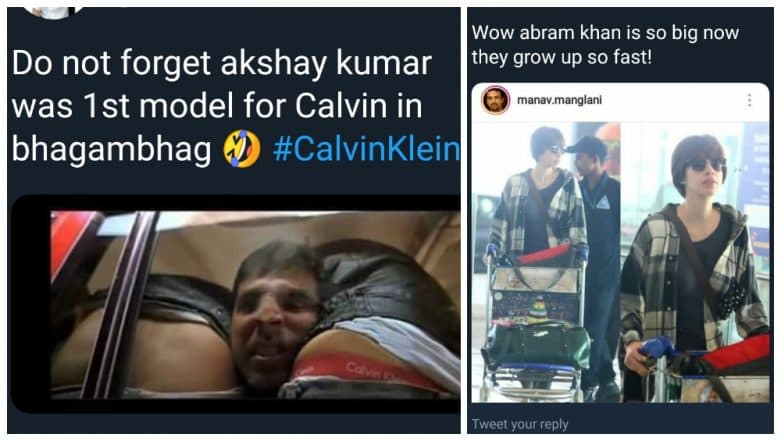 Are we making this a regular thing? You bet we are. Twitter is always at the forefront when it comes to cracking jokes at Bollywood. And I am always on Twitter. So, with our powers combined, presenting to you the best jokes that were cracked about Bollywood on Twitter in the month of March.  From Sonakshi Sinha to Hrithik Roshan's' Dhoom to Akshay Kumar's Calvin Klein Ad - nothing was spared on that website, which let us admit has been the best thing to happen to humanity. Also, please remember, all is being said and done in good humour. 50 Funniest Bollywood Tweets That Entertained Us More than the Movies in 2018.
Starting off with the one tweet that summarised March. By one and only, Varun Grover. And if you don't get this one, please never call yourself a Bollywood fan ever again. No, seriously.
Who would have thought in 1989 that exactly in 30 years, Prem will launch Jeevan's daughter and a kid from Matunga will launch Suman's son in a space of 7 days. pic.twitter.com/kNkNYqcRcj

— वरुण (@varungrover) March 29, 2019
In a world of Disha Patanis, let us not forget the OG
Do not forget akshay kumar was 1st model for Calvin in bhagambhag 🤣 #CalvinKlein pic.twitter.com/Ytg0Ik38Y1

— Ananya (@whoisshe97) March 18, 2019
Don't act like you never put that up as your Facebook status update
Oooof pic.twitter.com/VQo2K1dG5c

— Yash Sharma (@yashsharmaji) March 27, 2019
These Preity Zinta fans got no chill
Moderate no chill pic.twitter.com/FMkdSQIeX2

— Bakwas Rider 🏍️ (Wear helmet at the back also) (@BakwasRadio) March 17, 2019
Now that is a Race sequel we all are on board with. NO? Just me? Ohkay!
Race (2009) dir. Abbas Mustan: pic.twitter.com/QQuQubiMSM

— nino🏳️‍🌈 (@locomomos) March 20, 2019
This oddly makes so much sense
a pitcher of orange juice on the breakfast table which no one drinks is the sign of wealthy family in bollywood movies

— Nikhil (@niquotein) March 25, 2019
The internet was not ready for this joke
Wow abram khan is so big now they grow up so fast! pic.twitter.com/yxyiMpGD6R

— wtf peg (@peg_lateral) March 26, 2019
Shilpa Shetty had a great fall
I did this . 😁😁 pic.twitter.com/g3sqoOxNkO

— Hunटरर ♂ (@nickhunterr) March 28, 2019
No comments
Akshay Kumar is already in the studio, shooting Mission Shakti movie with Rakesh Roshan's Koi Mil Gaya computer.

— Ivan Mehta (@IndianIdle) March 27, 2019
FINE. This one's by me. And it is not even a joke. But, look, it went semi-viral. And I need answers. 
Am I the only one wondering Madhuri Dixit wahan ja ke baithi kaise?

I need answers @DharmaMovies pic.twitter.com/NVvbqPjdOF

— Rajat Tripathi (@RajjoUnchained) March 27, 2019
This one's a little old but never old. If that makes sense
Have memes gone too far. pic.twitter.com/8Z6Pkm21F1

— Samosa Joe (@AkriPasta) March 15, 2019
Someone take away Twitter rights from this person
If Sonakshi Sinha's dad was a stoner would be be Sethrogan Sinha

— Sassthree (@sassthree) March 13, 2019
So, that was our round-up of the best jokes that we came across. We know we might have missed many. So, here is the thing. Why don't you tag us on Twitter @latestly. See you in a month's time once again.