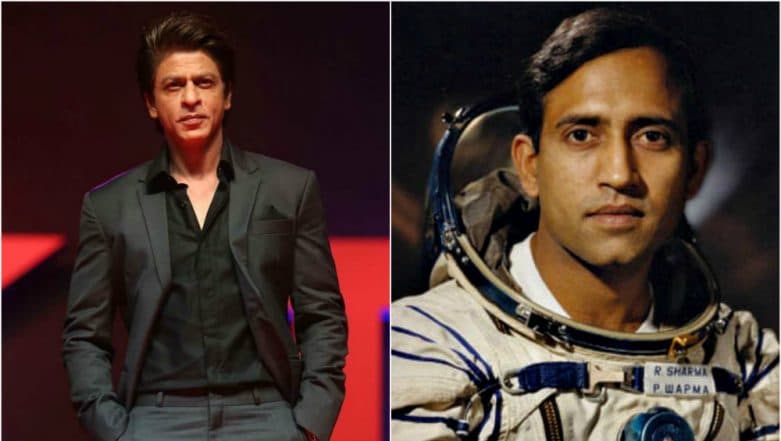 Shah Rukh Khan is currently struggling with his stars to help him deliver a hit. After the debacle of Dilwale, Fan, Jab Harry Met Sejal and recently released, Zero, the actor is in desperate need of a good movie that will ensure him great results and restore his tag of being a bankable star. Not that his film choices are getting weak by each passing day but he's simply not able to strike a chord with his fans and critics alike. As an actor, his ongoing fight to woo his audiences is tiring and signing a biopic at this point in his career only seems like a wise and smart choice. Akshay Kumar's Space Film, Mission Mangal to Go on Floors Before Shah Rukh Khan's Saare Jahaan Se Achcha.
However, if recent reports are to believe the actor has apparently decided to quit Rakesh Sharma's biopic, Saare Jahaan Se Achcha for Farhan Akhtar's Don 3. While the sequel to Amitabh Bachchan's remake is a great move, quitting the ambitious biopic for the same would be quite foolish, we believe. And we have enough reasons to justify our point. Below are some of them...
A biopic never goes wrong
From Irrfan Khan's biopic on Paan Singh Tomar to Priyanka Chopra's Mary Kom and Sonam Kapoor's Neerja, biopics have always enjoyed a great run at the box office. It's a genre that rarely goes wrong unless you cast Vivek Oberoi as Narendra Modi of course! From narrating a real-life story to reliving the past and cashing in on viewer's sentiments, movies based on the lives of real achievers are always a hit. And the one on India's first citizen to travel in space had to make history. The chances of this biopic going wrong were almost ZERO. #PaidCriticTaranAdarsh Trends on Twitter As 'Zero' Fans Give Positive Reviews and Trolls Movie Critic for Giving Poor Ratings to SRK Film.
Good Script
Famous writer Anjum Rajabali who has previously penned down films like Ghulam, The Legend of Bhagat Singh and Raajneeti is the writer for Rakesh Sharma's biopic. With a mind as sharp as his, one can only imagine him to write a script that's bold enough to impress all the critics and entertaining enough to charm the audiences. SRK should ideally trust the maker's vision and go ahead with the film. Don 3 will always be his own territory and no one can steal the franchise away from him. Presenting a story that's contemporary yet unusual is challenging and there's no reason for him to say no. In fact, he has all the reasons to sign it and come on board.  Ranveer Singh in Padmaavat, Ranbir Kapoor in Sanju, Shah Rukh Khan in Zero - 15 Best Performances By An Actor in a Leading Role in 2018.
Aamir Khan's choice
The reason why Aamir Khan had to reject the biopic was his commitment towards his dream project, Mahabharata. Earlier the star was very much on board but his previous commitment compelled him to quit and get SRK as his replacement. However, when the PK star was once so interested in this project, you know the script was deserving enough to grab his eyeballs. And Mr Perfectionist rarely goes wrong with his choices, right?
Picking Don 3 against Saare Jahaan Se Achcha may seem like a smart move but only a biopic can help him swim turbulent waters. While no official confirmation about him exiting the project is out yet, the rumour mill is buzzing with this big news. We hope these rumours never turn into a reality and the actor starts shooting his biopic next month as per the film's schedule. In the end, it's his life and his choices.