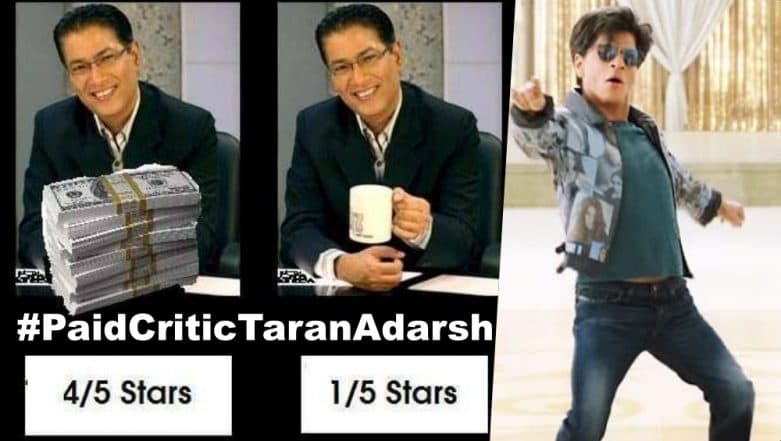 "Ye Jo Public Hai Ye Sab Janti Hai," this iconic Kishore Kumar song means "audience knows everything." We cannot find anything more apt than this song lyrics to describe the present situation pertaining to Shah Rukh Khan's film, Zero and Taran Adarsh. At first, let us tell you who is Taran Adarsh? Well, he is a movie critic who is also a film trade analyst. But why is he of so much importance to certainly take Taran Adarsh and King Khan's name in one breath? Well, the reason is ardent Bollywood film fans have awakened from their deep slumber to correct a few wrongs. A hashtag #PaidCriticTaranAdarsh is going viral on Twitter by SRK fans and movie buffs in general in retaliation to the movie critic's poor ratings for Zero. They feel Taran Adarsh has been biased against Zero movie and these guys have reasons to think in this direction. Zero Movie Review: Shah Rukh Khan's Infectious Charm, Anushka Sharma's Brilliant Act and Katrina Kaif's Stunning Performance Win You Over!
Shah Rukh Khan, Anushka Sharma and Katrina Kaif's Zero opened to mixed reactions, from critics as well as audiences. If few reviewers heaped praises on Zero's concept, dialogues and performances, Taran Adarsh had this to say, #OneWordReview…#Zero: FIASCO Rating: ⭐️ ½ Expected so much from this collaboration [SRK and director Aanand L Rai]… Sadly, the flawed writing - especially the second hour - takes the film downhill... EPIC DISAPPOINTMENT... #ZeroReview." Fair enough. After opinion could vary from person to person. But what did not go down too well with movie buffs was Taran taking an extra effort to trash the film. Zero: From Game of Thrones to Ranbir Kapoor, 18 Things You Missed in Shah Rukh Khan, Katrina Kaif and Anushka Sharma's Movie That Will Make You Appreciate It More!
What also irked fans is Taran Adarsh has been shoddy when it comes to an all-time classic such as Chak De! India 2, Rang De Basanti 2.5, Koi... Mil Gaya 2.5, Devdas 1.5, Swades 1.5, Lagaan 2.5. (Interestingly, three Shah Rukh Khan and two Aamir Khan, that too their bestest movies ever are given low ratings by this so-called expert!) Now let us look at the movies who have rated high and appreciated by the so-called movie expert. They are Prem Ratan Dhan Payo 4, Tees Maar Khan 3, Karzzzz 4, Rascals 3.5, Aap Ka Surroor 3.5! Yes, all these unforgettable films that include two that starred Himesh Reshammiya as the lead. Does one need to explain why people are losing their calm over Taran Adarsh's review of Zero that clearly seems to be a result of some 'ulterior motive'. Go through these tweets to see real audiences' reaction to SRK's Zero.
Taran Adarsh Really Underestimated People's Memory While Goofing Up With Stats and Figures Big Time
Dhoom3 and #Zero, both were released on same date, in different years. But according to this paid critic one was non-holiday and the other kne had Christmas vacations....

Shame on such a Criticism #PaidCriticTaranAdarsh pic.twitter.com/vxQlGc6wh4

— ᴄᴀᴘᴛᴀɪɴ ᴊᴀᴄᴋ sᴘᴀʀʀᴏᴡ (@Sajed4SRK) December 25, 2018
And He Seems to be a Serious Offender at Messing Up With The Numbers
Pic 1: Dabbang2 Released on 21st December But Non-holiday For This Dalla

Pic2: Dhoom3 Also Released On 21st December But Non-holiday For This paisakhor

Pic3: #Zero released on 21st December But Holiday For This Dalla

Paisakhor Dalla @taran_adarsh

Exposed #PaidCriticTaranAdarsh pic.twitter.com/mg0k4ASs7I

— Srk's Devotee (@VikashRonaldo) December 25, 2018
TRUE STORY
Just Look at The Public Reaction he Said Clearly "Movie Itni Achhi hai, Bas SRK Ki Film hai To Negativity krni hai"

#PaidCriticTaranAdarsh pic.twitter.com/6lENLRQdsB

— Rahil R Mohammed  (@IamPunekar) December 25, 2018
Swades 1.5 and Prem Ratan Dhan Payo 4.5 😭😭
You cannot trust a critic who gives 1.5 star to swades & 4.5 stars to PRDP. He only works on Money basis.

No Money: Below 2 Stars

5 Lakh: 3 Stars

10 Lakh: 4 Stars

20 Lakh: 5 Stars

Bloody corrupted so-called critic, misleading people. @taran_adarsh

— Zero Forever❤️⭐ (@Insane_Suraj) December 25, 2018
It would great to pay heed to real audience reactions than one man's rating, which may or may not be biased. Why take risk of missing out on an entertaining movie just because one critic decides to trash it.
Believe Audience

Not Such Paid Critics #PaidCriticTaranAdarshpic.twitter.com/i8Md7X2VQW

— AK47 (@SRKsAK47) December 25, 2018
OUCH...Twitterati is Giving Some Serious Burns to Taran Adarsh
" One Word Review For Taran Adarsh " -

" Dalla "#PaidCriticTaranAdarsh pic.twitter.com/Aijk1mrm8g

— Amarjeet Shinde 🔥 (@imANShinde) December 25, 2018
And, Still Believing Taran Adarsh! Really Guys
National Award Winner For Best Film Critics "Baradwaj Rangan" Gave 3.5* to Zero, TOI, Hindustan, DNA, Box-office Capsule, Amod Mohra Gave 4* to Zero, N Then Here is Our legend @taran_adarsh Who Gave 3* to Tees Mar Khan and he Gave 1.5* to Zero & 2* to CDI#PaidCriticTaranAdarsh pic.twitter.com/3r5o8yY4sg

— Srkian_Faizy (बौआ सिंह) (@Srkian__Faizy) December 25, 2018
You Asked For It - Every SRKian Right Now!!
Pic 1 : SRKian right now

Pic2 : Taran Chachu right now#PaidCriticTaranAdarsh pic.twitter.com/XyVhLdp8zy

— Javed (@JoySRKian_) December 25, 2018
Maybe Taran Adarsh Likes *MASALA, NO-BRAINER, NONSENSE* Movies
Look at the Stars

SRK has given to some of the Best SRK movies #PaidCriticTaranAdarsh pic.twitter.com/KOtFGl911Z

— Sammylicious (@masodi_sam) December 25, 2018
Start Applying Your Brain Guys and Not Randomly Believe One Man's Choice or Motive
To the paid critics like @taran_adarsh Dalle sudhar jaa #PaidCriticTaranAdarsh pic.twitter.com/jT6FxF4G3N

— Bad guy (@srkarman5) December 25, 2018
Zero Movie Review: A Charming But Flawed Film
So, that was some of the many, many tweets on #PaidCriticTaranAdarsh. The public outburst is totally understandable as movie reviewers must understand they have no right to fool an audience for whatever XYZ reason. Because at the end "Ye Jo Public Hai Ye Sab Janti Hai!"