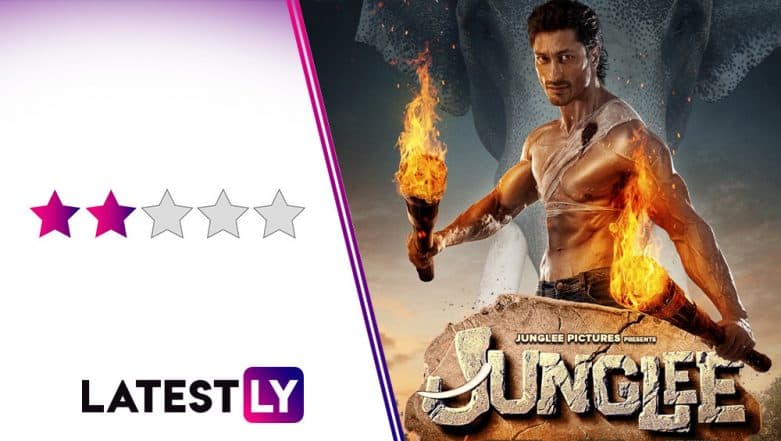 There's a saying right before the movie starts about how 'No one in the world needs an elephant tusk more than elephants'. And Vidyut Jamwal's Junglee precisely highlights the same issue. Vidyut returns to the big screen after two years and this time his macho image is coupled with a rather sweet and endearing tale. Junglee is a story about a beautiful relationship between humans and animals. The premise is familiar, and certain scenes are bound to leave you teary-eyed. The film revolves around Vidyut and his determination to right the wrongs. His camaraderie with elephants is even better than what we see between actors these days and the ones who admire him, this one's clearly a treat for your eyes. Making of Vidyut Jammwal's Action Scenes in Junglee.
There are no surprising elements in the movie that the trailer didn't make you aware of. Vidyut's character is fond of his animal buddies and he wants to protect them and their surroundings at any cost. While everything's going fine in his perfect life, arrives hunter Keshav,(Atul Kulkarni), who is determined to destroy it for his own pleasure. The movie narrates the horror of illegal smuggling of elephants' tusks and highlights it to make us curious. It makes you question the evolution of mankind and why we believe in seeking happiness at the cost of others!
Junglee relies heavily on Vidyut's presence and his love for action. The experience could have been better had he excelled in any of the departments. He's exceptional in packing a punch and there are no two ways about it. Is it a smart decision to make him do what he's best at and not experiment with anything else? I don't know but when he makes the same popular set up look like a yawn fest, that becomes worrisome. The actor's love for this genre cannot be even and that's precisely where the makers go wrong.
It's a Vidyut Jammwal movie and you go in with some high expectations. At least when it comes to his own area. Sadly this new outing suffers from action deficiency and the final result is underwhelming. He has great potential when it comes such fight sequences and the makers should have exhausted the same resource. Junglee is a good plot that suffers from bad execution. The entire narrative feels gimmicky after a point and you can't help but chuckle at some of the most serious scenes.
It won't be wrong to say that the film is a one-man show with the actor as its frontrunner. He lifts the weight of this entire movie on his strong and able shoulders but leaves ample scope for disappointment. Direction by Chuck Russell seems worthless and you end up questioning why was he hired in the first place? Though cinematography is brilliant, the storyline itself has so many weak points and bad approach that you can't help but continue to criticize it.
The ones who envisioned this as a hardcore action entertainer, courtesy Vidyut's heavy name, would be slightly disappointed. Others who wondered if it will focus on poaching issues as the trailer suggested, may try and embrace it. As I mentioned, the verdict will vary with each head and I personally fall in the first category. With less of maar dhaad and uneven setting, the movie has no 'wow' factor that will make you root for this tale. Focussing on a jungle plot and highlighting his strong point in the process sounds like a better approach for this movie instead. Junglee: Not Vidyut Jammwal, the Elephants Were the Real Stars of the Shoot!
I also have concerns about the film's technical aspects. It has pacing issues and editing could have been sharper. Vidyut tries hard to save the show but such half-hearted effort makes it a strenuous task for him. That feeling when makers ruin a very interesting plot with unwanted subplots and bad execution is hard to define.
Coming to Atul Kulkarni - the baddie. Though his act is fine, yet his role had no depth. Blame me for expecting too much but a villain against Vidyut has to match him physically followed by a face-off between them. Remember his fight with John Abraham in Force? Yes, the base of both the projects is completely different but that's something that's associated with his (Jammwal's) name now.
Also, why do Hollywood filmmakers rely on Indian mythology so much? A particular scene where the actor is bruised and lying unconscious, he sees Lord Ganesha advising him about what to do next. That seemed juvenile and irrational.
LatestLY's Exclusive Interview With 'Junglee' Cast
Performances
Vidyut Jamwal is a show stealer and a crowd puller in this case. His genuine efforts are highlighted in each scene and the sincerity and discipline that he brings to his role and character are applause-worthy. He takes his job damn seriously and that's the quality we adore in him. He's probably one of those few actors in B-town who loves his action hero tag and makes no effort to wipe it. His interrogation scene in the second half is whistle worthy. Watch out for it.
Atul Kulkarni provides him with able support though his character is not really well written. He's a versatile actor and does a fine job in conveying just the right emotions. With a sharp mind of a hunter, winning is the only thing he cares about.
Pooja Sawant and Asha Bhatt do a decent job as their debut. Akshay Oberoi is however wasted and his character could have been meatier. Though we don't expect him to be a second lead, yet there was scope to define his character and explore it further.
A special mention to all the animals. They are simply adorable and there are too many moments in the film that will make you go aww... Now, it's an uphill task to make animals act and react to certain situations but Russell does a nice job in capturing just the right moments. It's a delight to see their bond with the protagonist and your face is bound to lit up every time they come on screen.
On that note, let's sum up the experience for you
Yay!
Vidyut Jammwal
Elephants
Atul Kulkarni
Nay!
Chuck Russel's direction
The gimmicky approach
Less action
Typical storyline
Final Thoughts
Junglee is highly okay but it could have been so much better. They had an amazing plot but failed to yield any great results out of it. You can pass this one.