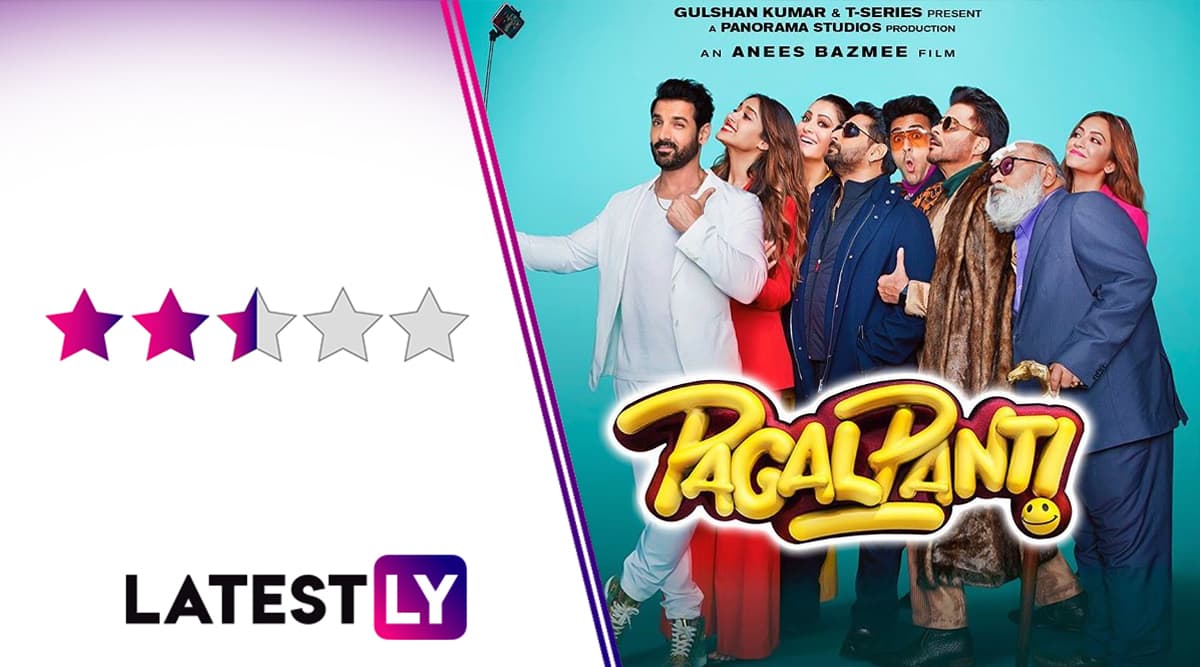 Pagalpanti Movie Review: Raj Kishore (John Abraham), Junky (Arshad Warsi) and Chandu (Pulkit Samrat) are three buddies in London, who try their luck in various business ventures, only to find failure. The blame always falls of Raj's bad luck, that has driven him from being a bank employee in India to being a swindler in England. A botched delivery of a sports-car makes them reluctant employees of two gangsters, Raja Saheb (Saurabh Shukla) and his brother-in-law Wifi Bhai (Anil Kapoor). The gangsters use them as decoys from assassinations attempts by their rivals Tulli-Bulli (Zakir Hussain, Ashok Samarth), resulting in some hilarious consequences. Pagalpanti: Before the Release of Anil Kapoor, John Abraham-Starrer, Ranking All Anees Bazmee Comedies From Worst to Best!
In the meantime, Chandu hatches up a romance with Raja's daughter Janvi (Kriti Kharbanda). Raj is being chased by his lover Sanjana (Ileana D'Cruz) and her uncle (Brijendra Kala), who he had brought to penury with his bad luck. There is also Niraj Modi (Inaamulhaq), a fugitive businessman/kingpin, who has fleed from India after fleecing a bank for thousands of crores, and had invested in Raja's business. How the three good-for-nothing heroes try to get themselves out of this complicated mess is what the rest of Pagalpanti, directed by Anees Bazmee, is about.
Starting with something positive, Pagalpanti isn't as bad as Bazmee's No Problem or Welcome Back. The premise, the characters and even the BG score make Pagalpanti look like a threequel to the Welcome franchise, which it is 'NOT', but Pagalpanti is definitely a better movie than the actual sequel of Welcome. Someone in Bazmee's team doesn't know how to cut trailers of the film, for Pagalpanti had two promos and both were bad. Just like what happened with Mubarakan.
Having set such low expectations, I was pleasantly surprised to see myself chuckling at some of the situational humour of the film, and the comic timing of most of the actors. Pagalpanti isn't as funny as Welcome, No Entry or even Singh is Kinng, but it doesn't suck either. The first half, especially, has more humour, when the focus is on Raj, Junky and Chandu living a dangerous life with Raja and Wifi. The actors share terrific chemistry between themselves and that saves some of the portions, where writing is poor. Some scenes are stretched and barely generate any laughter, even though we can see the actors trying hard. Some of its jokes are borrowed from better movies, including Bazmee's. But when the humour works, it does leave you in splits, despite yourselves.
It is the second half, where the cracks are so visible in the narrative, that we can't ignore them. The humour loses its steam, with Bazmee trying to stretch scenes even more, to the point that the looniness taxes your patience. Lovebirds Pulkit Samrat and Kriti Kharbanda Twin in Pink for Pagalpanti Promotions.
A couple of such scenes need to be mentioned. One involves a chase scene involving most of the major characters and a truck carrying superglue. You can guess what happens next. It is funny at the start, but when the gags become repetitive within the same scene, you feel the migraine creeping in.
Watch The Trailer of Pagalpanti:
The second scene is the overstretched climax, involving three clearly CGI-ed lions, that feels like an unholy offspring of similar climaxes from Andaz Apna Apna and Total Dhamaal. It has a couple of funny moments, mostly courtesy an infallible Saurabh Shukla. But it makes Pagalpanti overstay its 'Welcome'.
Even Urvashi Rautela's portions feel needless in the film, serving mostly the purpose of eye-candy and being a romantic interest for Arshad. The editing, like with most Bazmee films, is still below par. The characters appear randomly in the film, and so do the songs.
However, the most annoying thing about Pagalpanti is when it doesn't try to be a screwball comedy. Or when the film makes the actors themselves pat their back after delivering silly nuggets of wisdom.
I have issues with the makers trying to spoof both the PNB and PMC bank scandals, whose real-life repercussions are still being suffered by many of the depositors. I was even more irked when Pagalpanti tries to use the scandal to invoke a cheap message of patriotism and sentimentalism.
Why, John, why? Even Akshay avoided these kinds of stunts in Housefull 4, and that wasn't even half as funny as your film. Not cool, people! Not cool, at all!
The Performances
The actors may not be in the best of their comic timing, but they play well with the inanity of the plot. Arshad Warsi is, perhaps, the performer who shines the most with his natural comic timing. Even if his character and mannerisms are basically borrowed from Golmaal franchise, except for the name. Saurabh Shukla comes a close second. The veteran actor is terrific, especially in the second half. Anil Kapoor's Wifi, who feels like a meeker version of Welcome's Majnu, is repetitive, but is likeable enough.
John Abraham may not be as comically inclined as most of his co-stars, but he is earnest. Save for the climax, he gives his brawns a break and goes well with the flow. Pulkit Samrat is surprisingly good. Kriti Kharbanda is convincing as Rajaji's air-headed, haughty daughter. Ileana gets little scope, but is pretty decent. Urvashi Rautela is pure eye-candy, and has the most needless role in the cast. The underrated Brijendra Kala offers a few moments of mirth. Inaamulhaq worked fine as the main antagonist, till it became a caricaturish performance.
Yay!
- The Situational Humour Works in Parts
- The Comic Timing of the Actors
- The Production Values Are Decent
Nay!
- Lazy Writing
- Often Overstretched and Poorly Edited
- Random Placement of Songs
- Urvashi's Role Could Have Been Better Worked Out
- Needless Patriotic Angle Inserted
Final Thoughts
Pagalpanti works when it embraces its silly, madcap premise whole-heartedly to generate some good moments of situational humour, and the cast blending well with the inanity. But the second half is a letdown, with stretched-out gags and some bad editing choices. Near the end, when Pagalpanti tries to stoke our patriotic sentiments by playing "Dil Diya Hai, Jaan Bhi Denge", you regret not leaving your brains at home. That's what you call a Dimaag Ki Dahi moment!