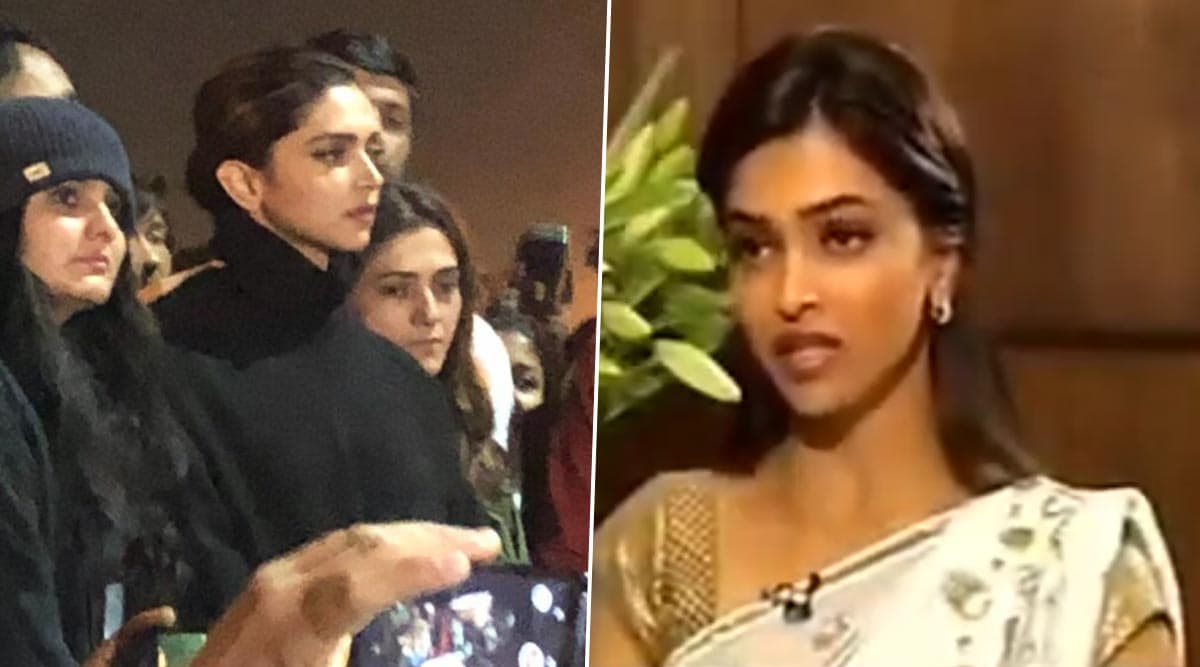 Deepika Padukone has surely struck a hornet's nest when she attended the protest meeting held at the Jawaharlal Nehru University (JNU) campus by the students there. For the uninitiated, the campus was heavily attacked by 50 odd masked intruders, allegedly from the Akhil Bharatiya Vidyarthi Parishad (ABVP), on January 5. They were attacked with lathis, rods and reportedly, even acid. Deepika Padukone, who was promoting her upcoming film Chhapaak in New Delhi, arrived at the meet in the evening on January 7. While she didn't speak anything at the event, her mere presence brought enough eyeballs to highlight the cause. Deepika Padukone Visits JNU to Express Solidarity With the Students, Stands Beside Injured JNUSU President Aishe Ghosh and Former Student Leader Kanhaiya Kumar (View Pics).
The right-wingers, of course, didn't take lightly to her presence and flooded social media with tweets trolling her and asking for the boycott of her movies. In the process, an old video of her is going viral, where she is heard praising former Congress President Rahul Gandhi.
The clip is taken from a 2011 interview given by the actress to DD News show Ek Mulaqat, three years before BJP's Narendra Modi defeated Rahul Gandhi's campaign to be the Prime Minister. At that time, Dr Manmohan Singh was the Prime Minister of India, and Rahul Gandhi was stepping himself up to be the next eligible PM candidate. Ah, well, we know how that went!
Watch the clip below:
Hopefully Rahul Gandhi will become prime minister of India one Day: @deepikapadukone [2011]

Oh Well! 😹🙏🙏 pic.twitter.com/ZHFOzHA6DK

— BALA (@erbmjha) January 7, 2020
In the clip, the host Manoj Tibrewal Aakash asks Deepika Padukone who among the young politicians whose work has impressed her the most. In reply, she said that while she isn't very well-versed with politics, she was impressed with what Rahul Gandhi was doing for the youth of the country and wanted him to be the Prime Minister. When the host asked her why does she feel so, Deepika replied that Rahul Gandhi looks to have a better connect with the youth and his thought process is both traditional and futuristic at the same time. Chhapaak: Deepika Padukone's Film Trolled on Twitter for Changing Laxmi Agarwal's Assailant from Nadeem Khan to Hindu-Sounding Rajesh.
You can watch the whole interview here:
Now with right-wingers looking for opportunities to troll the actress, many are making this clip viral and accusing the actress of being a Congress stooge.
Check out some of the reactions below:
Tweet #1
Futuristic soch= Aloo Sona. 😂 https://t.co/88ebInrHKe

— NP (@nishchayapallav) January 8, 2020
Tweet #2
So it's clear..... https://t.co/Nvim2yqrcG

— DEEPAK (@baghla1983) January 8, 2020
Tweet #3
Oh boy! That's why common sense isn't common anymore! https://t.co/ulK8uIgb1a

— F@qeer (@sameer_verma_) January 8, 2020
Tweet #4
Whatever you say about this BJP IT cell walas

But ye purana video bahot sahise utha late hai

— Randhir D Borkar रणधिर बोरकर (@curious_rd_b) January 8, 2020
Tweet #5
Don't get surprised why she join tukude tukude gang https://t.co/USYNdeuOpB

— Dinesh Negi (@Dinesh200983) January 8, 2020
With Chhapaak releasing in theatres on January 10, it remains to be seen how the film will be received by the audience over this outrage. There is no doubt that Chhapaak, directed by Meghna Gulzar and inspired by the life of acid attack survivor Laxmi Agarwal, has managed to grab enough eyeballs with Deepika's presence at JNU. Her haters may be looking to boycott the film, but her support base, that would have increased after her JNU attendance, would try to support her by watching the movie.
While Deepika was more of a silent but visible supporter for the JNU students, other Bollywood celebs like Swara Bhasker, Sonam Kapoor, Anurag Kashyap, Neeraj Ghaywan, Richa Chadha, Ali Fazal, Taapsee Pannu et al have been rigorously asking for justice for students injured during the JNU violence.