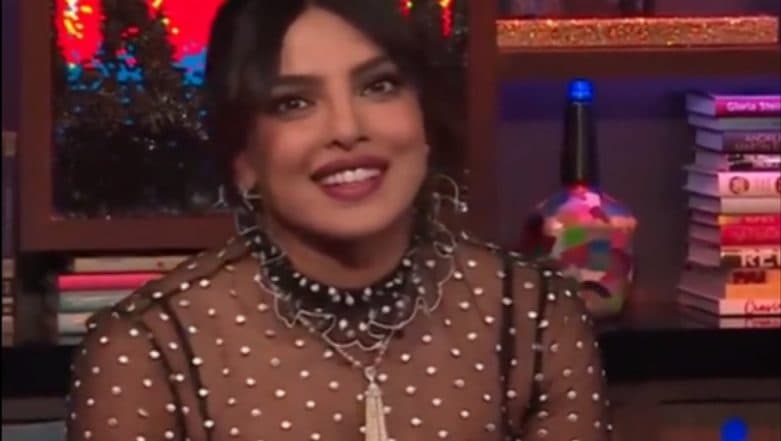 It was long ago confirmed that Priyanka Chopra will be a part of Barry Levinson's next film on Ma Anand Sheela. The world knows how crucial a role she played and was Osho's right hand back then. So, on Andy Cohen's show Watch What Happens Live where PeeCee appeared recently to promote her YouTube travel show, If You Tell Me Just One Thing, she was asked by one of the listeners to spill the beans on her character. Confirming herself as the lead, Priyanka said, "I am developing it with Barry Levinson." When the show's host Andy Cohen asked whether she will be saying popular lines of Ma Anand Sheela like 'Tough Ti**ies', she added saying, "All of them. There are so much of them but it's so much that is exciting about her. It's far away now but hopefully, it will happen." Priyanka Chopra and Nick Jonas Are Sexting 'For Sure' When They Are Apart, Reveals the Actress.
Speaking further about the project, she said, "I am developing a feature with Barry Levinson. We are developing it as a character on this Guru called Ma Sheela who originated from India who was Osho's right hand. She was just devious and developed a cult and brought people here for Osho, I don't know if you have heard of him yet. It was amazing. I would be developing that next." Sounds pretty interesting! This is gonna be the actress' fourth Hollywood film.
Not just her professional life but her private life too seems to be all sorted especially now that she is married to a man who adores, loves and respects her. Priyanka and Nick Jonas tied the knot last year and are one of the most popular couples in Bollywood and Hollywood too. Here's wishing the Desi Girl lots of love and luck.