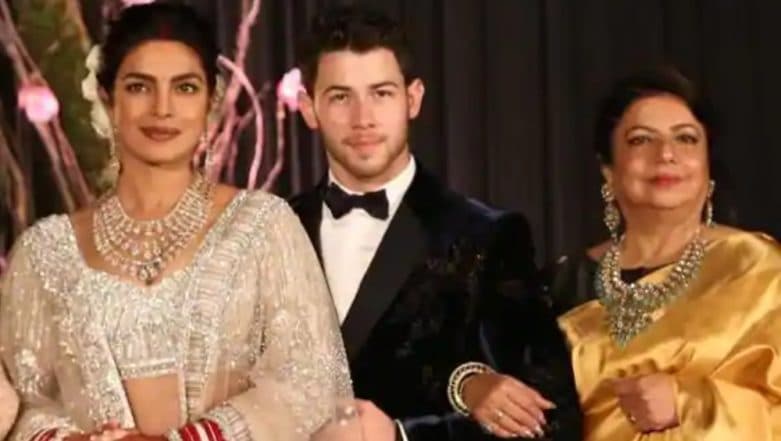 Priyanka Chopra and Nick Jonas' big fat Indian wedding was the centre of everyone's attention. The three-day long event was loaded with different ceremonies and eventually their weddings as per Hindu and Christian traditions. It was definitely a grand event but her mother, Madhu Chopra wasn't too happy about it. No, before you jump to conclusions and wonder if she was unhappy with their pairing, then let us be clear that was not the case. In fact, she was unhappy about the affair being so intimate. The Quantico star in her recent interaction with Ellen DeGeneres for the promotions of Isn't it Romantic? revealed why her mother was upset with her intimate shaadi as she didn't get to invite her 1,50,000 guests! Before Aamir Khan Announces Film on Osho Rajneesh, Priyanka Chopra Spills Beans on Her Ma Anand Sheela's Biopic.
When the host asked her to elaborate on her special day, PeeCee revealed how it was a three-day long affair that was strictly restricted to family members. It was a three-day wedding. One Indian ceremony, one Christian ceremony and one day of pre-rituals we have in a Hindu wedding." Going further she narrated how they invited only 200 guests which is very less for an Indian wedding. "Usually Indian weddings have like a thousand people, we had only 200 which was mostly family. Both of us have giant families." And since the couple was keen on keeping it a private affair, they hardly invited anyone. Priyanka Chopra on a Promotion Spree, Will Make An Appearance on The Tonight Show Starring Jimmy Fallon.
.@PriyankaChopra tells me all about her wedding to @NickJonas. https://t.co/oYLHEPooUv

— Ellen DeGeneres (@TheEllenShow) January 30, 2019
Now coming to the point, why was her mother upset? Well, like every other Indian wedding, she wanted to invite the entire town for her daughter's special day. "My mother was so upset with me the whole time. She was like I need to have another party for the 150,000 people I know. How can I not invite my jeweller, how can I not invite my hairdresser? This was the conversation," said the actress. Well, we totally agree with Mrs Chopra but knowing Priyanka and Nick and their love for intimacy, this was only natural. Of course, they made up for the absence of their other guests by hosting three different receptions in Delhi, Mumbai and the US respectively.