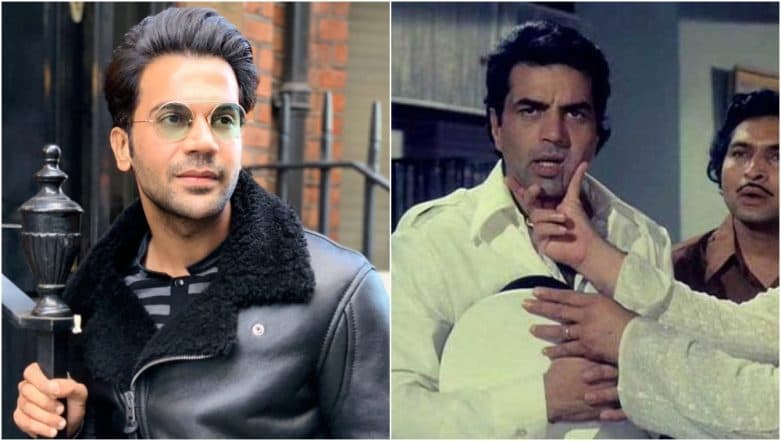 Hrishikesh Mukherjee's 1975 slice-of-life comedy film, Chupke Chupke starring Dharmendra, Sharmila Tagore, Om Prakash, Amitabh Bachchan and Jaya Bachchan in key roles completed 44 years since its release last week. The film which starred Dharmendra as the charming botany professor named Parimal Tripathi is still considered to be one of the most loved characters essayed by the actor. The evergreen film and one of Mukherjee's career best is all set to get a fresh spin as producer Bhushan Kumar will be collaborating with director Luv Ranjan for a remake.
While more details of the remake are still underway, the actor who has been finalised to play this iconic role of Dharmendra is none other than Rajkummar Rao. According to reports, he is the first actor on board for this project and other actors will be confirmed. Mental Hai Kya Poster Upsets Twitter and Mental Health Experts; They Have a VALID Reason
The original film revolved around Dharmendra's character of the Botany professor pretending to be a chauffeur who is in love with Sharmila Tagore's character. This story is staged to fool, Tagore's Barrister brother-in-law played by the exceptional Om Prakash.   Mental Hai Kya: Kangana Ranaut and Rajkummar Rao Starrer Gets a Quirky New Poster, Movie to Release on June 21.
Raj does seem like the perfect choice for this lively role. The actor was last seen in 2018's hit film Stree and is all set to entertain the audiences with his upcoming film, Mental Hai Kya along with Kangana Ranaut. The film recently ran into controversy for its new poster as it received a lot of flak from social media as well as Mental Health experts for the portrayal 'mental' antics. The poster featured Kangana and Rajkummar holding a blade between their tongues. Mental Hai Kya is slated for a release in June 2019 and will be clashing with Shahid Kapoor's Kabir Singh releasing on June 21.