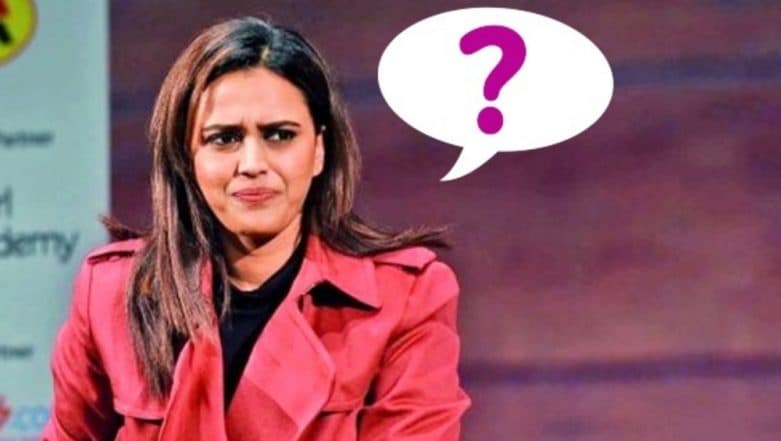 If you are on Twitter and are seeing all these tweets about people asking Swara Bhasker to resign as the Prime Minister of India, don't get confused! This is a new satirical protest by some of Swara's fans in lieu of some recent events, that even Swara herself has amusingly obliged to be a part of. As you are aware, Swara Bhasker, known for her performances in Nil Battey Sannata and Veere Di Wedding, is considered one of the most vocal Bollywood stars on social media. She has no qualms in raising her voice against social crimes, especially rapes, and question the government for the lack of corrective and preventive action.
So it is not surprising that Swara has already invited the wrath of many right-wing trolls, who have frequently slandered and abused her on her social media timeline. A couple of months back before the release of VDW, Swara had urged her co-stars Kareena Kapoor Khan, Sonam Kapoor Ahuja in joining her to the placard protests against the Kathua and Unnao rapes. The trolls demanded that the movie to be boycotted. Instead, it ended up being a profitable venture.
Now in the light of the recent horrifying Bihar's Muzaffarpur shelter home rapes, trolls are at it again, demanding why Swara and her Bollywood friends are not holding a placard-protest this time. Even some news channels joined the bandwagon in blaming Swara for her 'silence'.
Her friends and supporters have come in defence of Swara, demanding why the trolls are not asking the government for their maintained silence over these rapes. Moreover, they started this trend of Twitter where they blamed 'PM' Swara Bhasker (you know whom this barb is aimed at! Wink wink!) for every wrong policy and have asked her to resign.
Here, check out some of the tweets below -
Blame her for Nirav Modi!
PM @ReallySwara shared the stage with a fraudster, the nation wants that #SwaraMustResign pic.twitter.com/ZqfaUnM9ME

— Rofl Gandhi (@RoflGandhi_) August 5, 2018
Blame her for beef export
In 2014, Prime Minister @ReallySwara during her Election rally blamed UPA Govt for being World's top Beef Exporter in the world, It's been 4 years since her govt is in power. India is still the top Exporter of beef. #SwaraMustResign https://t.co/TvdLa5JxKb

— Unofficial Sususwamy (@swamv39) August 5, 2018
Blame her for not cleaning Ganga
Yup. @ReallySwara has been slacking off when it comes to cleaning of the Ganga too. https://t.co/IULICnAz6M

— Rohini Singh (@rohini_sgh) August 5, 2018
Blame her for not get that promised Rs 15 lakhs
Hey @ReallySwara when we will get 15 Lakhs in our account, which Modi promised before 2014.

— Kapil (@kapsology) August 5, 2018
Blame her for the increasing rapes
Here is why PM @ReallySwara must resign. #SwaraMustResign pic.twitter.com/lSjENeOSMq

— Unofficial Sususwamy (@swamv39) August 5, 2018
Blame her for the lack of jobs
Where are the jobs, @ReallySwara, Where are the jobs?

We'll not make you PM again if you fail to create jobs https://t.co/sDeV33gKap

— Girish (@GirishNaught) August 5, 2018
Well, blame her for everything that the real PM hasn't done yet!
I mean, @ReallySwara is truly pathetic as PM. Nirav Modi is still abroad, Swiss bank money isn't back, Ram Mandir isn't built, Chinese are in Pakistan, Sri Lanka, and Maldives, Dawood is not in India, US cancels 2x2 meeting, India loses at Edgbaston... astounding failures. https://t.co/zNZ9Hbl507

— Salil Tripathi (@saliltripathi) August 5, 2018
So what has the real Swara Bhasker has to say to all this? This is how she reacted when a popular news anchor questioned her silence over the recent rapes.
Par sir #Bollywood toh sattaa mein nahi hai na, governance ka kaam Bollywood ka toh nahi hai na... Aap 'maney sarkaar aur sataadhaariyon sey kyun nahi poochhtey bas' ??!!????? https://t.co/cGxeNgeH5L

— Swara Bhasker (@ReallySwara) August 3, 2018
That's why we love Twitter. Even though many use it to spread hate, there are others who use the same in indigenous ways to show solidarity and poke fun at something in a smart way.