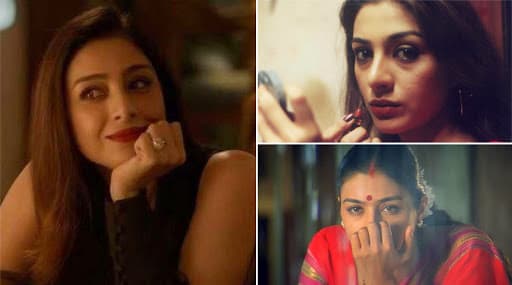 Tabu is one of the those actresses who balanced the mix of commercial and off beat perfectly. If she did a Vijaypath, there was also Maachis. If Hum Saath Saath Hai didn't give her enough credit, Chandni Bar made her bloom as an actress. Her filmography is envious and something any actress would love to call hers. But we are aware that Gen-Z is mostly oblivious of some of the best roles that this actress has portrayed on screen and hence, we thought of listing them out. 'A Suitable Boy' Adaptation: Mira Nair Is Excited About Tabu, Ishaan Khatter's BBC One Drama As Series to Roll in Lucknow
Andhadhun (2018)
Tabu played an antagonist in the film and what a portrayal it was. She kept it subdued yet effective. Despite being despicable, you can't hate her. We feel not just Ayushmann Khurrana, Tabu should have picked up a National Award for the film too.
Haider (2014)
Tabu played a mother to Shahid Kapoor's character and was seen torn between her husband and her son. The angst and pain on her face because of that can be easily felt. But her portrayal as a mother won our hearts because she mirrored her anguish of trying to save her son every moment perfectly.
Maqbool (2003)
A retelling of Macbeth on the big screen had Tabu playing the gansgter's moll who falls for his trusted aide. She is the catalyst who creates mayhem in Mian Maqbool's life but when you watch the film, you will realise, Tabu didn't turn into Komolika to get what she wanted. She just loved the man and with much grace goaded him to take his mentor's place. Subtlety was the essence of the film and Tabu's character!
Astitva (2000)
We are pretty sure there are many who hadn't watched the film in those days. Astitva is one of the most powerful women-centric film Bollywood has ever produced. It was a story of a wife who is neglected by her husband and had the hots for another man. The breakdown of Tabu at the end is beyond anything you have ever seen in Hindi films.
Chandni Bar (2001)
What did we know about bar girls before Chandni Bar? Almost nothing. Tabu's portrayal of one who goes through a lot to have a good life is gut-wrenching. No wonder she took home a National Award for Chandni Bar.
Maachis (1996)
A Gulzar masterpiece, Maachis is still remembered for the scintillating depiction of the unrest in Punjab. Tabu's fight and longing for her brother were simply heart-wrenching. This is a must watch!
Virasat (1997)
Tabu played a village belle in the movie opposite the city-bred Anil Kapoor. Her docile and sweet character will immediately make a place in you heart. So when she dies tragically, Kapoor is not the only one who is left devastated in the film. We were too!